This post was written by Emma Oschrin, 2014 Project Specialist.
If you frequent the Mono-logue, you're probably invested in helping Mono Lake and its tributary streams recover. As always, donations and member support are welcome and necessary aspects of protecting and restoring Mono Lake. But if you're looking to help Mono Lake in a more hands-on way, consider joining us on Wednesday, July 16 or Wednesday, July 23 for a restoration field day!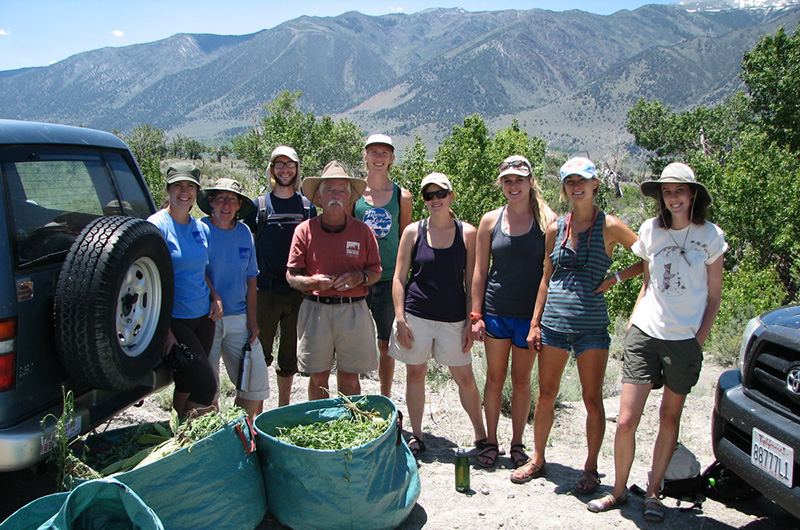 For our restoration field days, volunteers help with various projects at Mono Lake and along the streams. This July, we'll be having two restoration days along Mill Creek. Volunteers and Mono Lake Committee staff will be lending a helping hand to the streams by removing invasive plant species that are currently taking up space in streamside habitat.
Join us on Wednesday, July 16 at 9:00am at the Mono Lake Committee Information Center & Bookstore. We'll be working in the morning to beat some of the mid-summer heat. If you're busy next week, come on out the following Wednesday, July 23 at 9:00am. On July 23, we'll be joined by guest naturalist Ann Howald, a plant ecologist and taxonomist. Come hear about the plants in the region while removing the ones that don't belong!
After the invasive removal, lunch will be provided for all volunteers. Be sure to wear water shoes, sun protection, and bring plenty of water. Contact Emma Oschrin or Julie Curtis at (760) 647-6595 with any questions. We'll see you soon!