Have you ever wanted to learn more about the birds that migrate through the Mono Basin, experience Mono Lake by moonlight, learn about the ecosystem impacts of recent fires, or find the best places to see the aspen leaves turn gold in the fall? Mono Lake Committee field seminars offer something for everyone—whether you're just here for a short time and want to spend a half day with an expert instructor or if you'll be here longer for one of our three-day seminars. There are still over 20 field seminars you can register for through October. Read more about all the seminars that still have space below.
August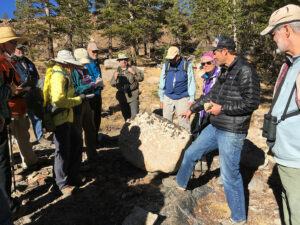 This month, join Mono Lake Committee Lead Naturalist Guide Nora Livingston for seminars on Mono Basin mining history, shorebird and waterfowl migration, and a special Birding Between the Breweries seminar which will introduce you to some great birding at a few local hotspots as well as great beer at hotspots of another kind. Nora will also be leading a new seminar, Birding the White Mountains, during which you will search high and low for a great variety of species from the Owens Valley up to the White Mountains. If you've ever wondered about the geology of the local area, join Yosemite National Park Geologist Greg Stock's Mono Basin Geology field seminar. This seminar, consisting mostly of field visits to the premier sites from volcanic craters to glacial moraines, will present the geologic stories of the Mono Basin in understandable fashion.
September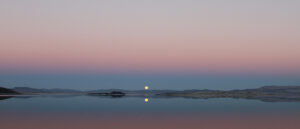 Start off your September with a Full Moon Adventure. This special program starts with a natural history walk in the late afternoon and the opportunity to canoe on Mono Lake during the full moon rise. You can also join research scientist Malcolm North for his new seminar, Fire Ecology of the Eastern Sierra, where you'll see the effects of fire on forest ecosystems, and discuss the good, bad, and ugly of current fire management and policy. If you'd like to practice your tree identification, Nora is also leading a full-day seminar which will delve deeply into the diversity of trees in the Mono Basin and their identifying traits.
October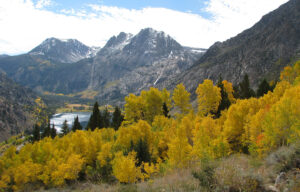 In October, come enjoy the Mono Basin's spectacular fall colors with Nora during one of three Fall Color Forays throughout the month. If you'd like to practice your photography in the aspen groves, you can also join accomplished photographer Robb Hirsch for Mono Basin Fall Photography to explore shoreline locations at sunrise and sunset, fall color in nearby canyons, and grand overviews of the Mono Basin.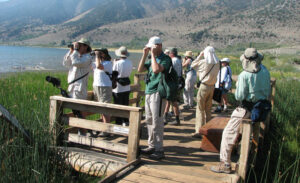 See the full list of seminar offerings here. If you have any field seminar questions or would like to be added to the waitlist for a seminar that is currently full, please call (760) 647-6595 and ask for Elin, Nora, or Andrew. You can also email us if that's easier. We hope to see you at a seminar this year!