Today the Los Angeles Times published two letters in response to the opinion piece by Bruce Resnik of a few days ago. We love the headline: "L.A. doesn't need Mono Lake's water—but Mono Lake desperately does." Thank you to Thomas and Noel, who wrote in! We have republished their letters here in full:
"To the editor: Thank you for Bruce Reznik's essay, "A wet winter began to replenish Mono Lake. L.A. should let it be a lake again."

"I opened the Mono Lake Committee's Los Angeles office in 1979. At that time, Los Angeles Department of Water and Power consistently opposed efforts to protect Mono Lake. However, visionary, tireless advocacy persuaded California's Legislature to establish the Mono Lake Tufa State Natural Reserve in 1981 and Congress to establish the Mono Basin National Scenic Area in 1984.

"Most significantly, the California Supreme Court's 1983 decision in National Audubon Society vs. Superior Court determined that Mono Lake's public trust resources required reconsideration of the lake's water needs.

"In 1994, the State Water Board ruled that Mono Lake's water level must rise to 6,392 feet above sea level by 2014. The DWP has failed to comply with that decision. The lake level remains about 12 feet below that mandated level.

"In mid-June, I joined several hundred people at Mono Lake to celebrate this internationally significant natural resource. Never before had I seen so much water pouring into Mono from its streams. Wading through Lee Vining Creek's frigid waters as they rushed into the lake was a joyous experience.

"It is outrageous that DWP and the State Water Board have failed to meet their commitments. The relatively small amount of water that the DWP takes from Mono Lake is watery "chump change," yet it is priceless for Mono Lake's restoration. Now is the time to stop diversions and restore Mono Lake."

Thomas Cassidy, Arlington, VA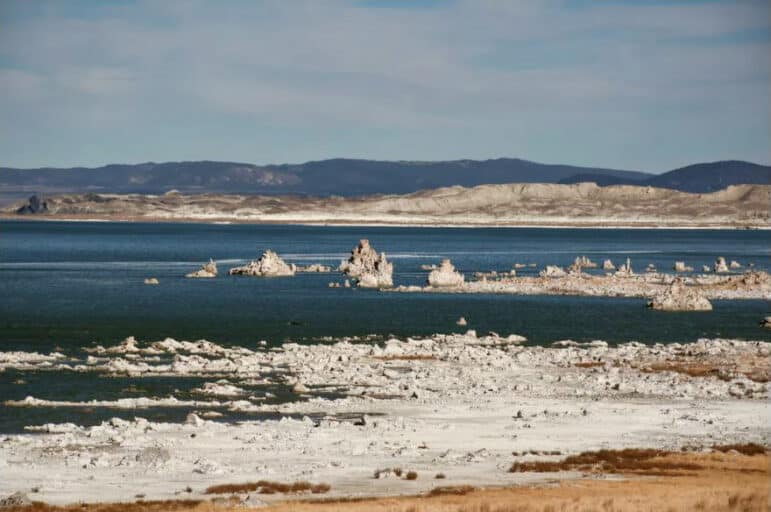 "To the editor: Thank you for the important piece explaining why the DWP must stop diverting water from the streams draining into Mono Lake. In addition to all of the reasons cited, there are two more very important points to consider.

"First, the tunnel that carries the diverted water south toward Bishop actually captures a lot of groundwater too. In fact, groundwater infiltration into the tunnel accounts for about half of the water obtained from the Mono Basin.

"Thus, if the diversions from the streams that feed Mono Lake stop, the DWP will continue to receive half of the water currently taken.

"Second, the exposed lake bed causes dust air pollution. Many days the regional dust particulate pollution far exceeds clean air standards. The DWP has spent $2.5 billion attempting to remedy a similar problem at Owens Lake. A similar project will eventually be necessary at Mono Lake.

"Raising the lake to the "management level" will clearly lessen this problem. The state water regulator must act now."

Noel Park, Rancho Palos Verdes
Top photo by Mara Krista Plato.