Like most of the world has done, we have changed our operations in response to COVID-19.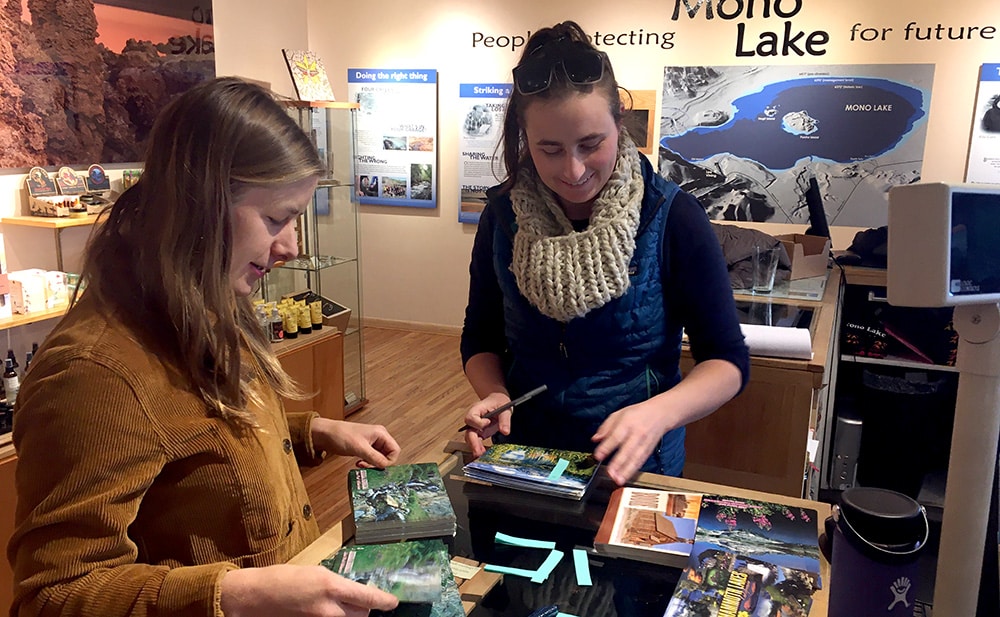 In addition to closing the bookstore and canceling public programs, most of our staff are now working from home. That means that we are not answering the phones in the office, but we do want to hear from you!
You can call our main line at (760) 647-6595 and leave a general message. I am checking that voicemail box daily, so I'll get your message and direct it to the right staff member, who will get back to you promptly.
Staff are checking their work voicemails from home, so you can leave voicemails directly for specific people. See the bottom of this post for a directory of staff extensions.
You can send an email to info@monolake.org. Several staff members check this email account every day. You can also email us directly—each staff member's name below is linked with their email address.
Please don't hesitate to contact us—we're still here, at Mono Lake, as always.
_______________________
To reach a specific staff member's voicemail, dial (760) 647-6595 and then their extension.
Geoff McQuilkin, Executive Director, extension 110
Bartshe Miller, Eastern Sierra Policy Director, extension 121
Lisa Cutting, Associate Policy Director, extension 142
Rose Nelson, Education Director, extension 113
Arya Harp, Communications Director, extension 111
Anna Christensen, Philanthropy Director, extension 112
Ellen King, Membership Coordinator, extension 123
Greg Reis, Information & Restoration Specialist, extension 141
Robbie Di Paolo, Restoration Field Technician, extension 122
Santiago Escruceria, Outdoor Education Center Manager, extension 136
Nora Livingston, Lead Naturalist Guide, extension 135
Elin Ljung, Communications Coordinator, extension 134
Andrew Youssef, Digital Engagement Coordinator, extension 150
Lily Pastel, Information Center and Bookstore Manager, extension 130
Donnette Huselton, Bookkeeper, extension 144
Maureen McGlinchy, Membership Assistant, extension 127
Joslyn Rogers, Project Specialist, extension 102