Next Tuesday, November 5 marks 100 years to the day of the opening of the Los Angeles Aqueduct from Owens Valley to the city in 1913.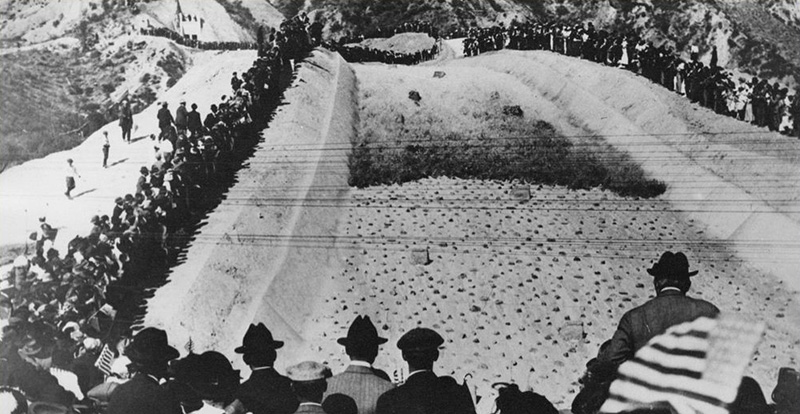 It changed the landscape, Eastern Sierra watershed, social fabric, and political climate of California forever, for better and worse. Take a look at these centennial commemorative pieces to get a sense of its importance:
•  LA Times: "There it is—take it," A century of marvel and controversy
•  KPCC: The LA Aqueduct at 100
•  Boom: A Journal of California: The Los Angeles Aqueduct at 100
•  KPCC: Aerial photos of the Los Angeles Aqueduct
•  KCET's Los Angeles Aqueduct coverage
•  DWP's centennial website
While it's not a centennial year for the aqueduct reaching the Mono Basin—which happened in 1941—it is worth remembering that city leaders were already looking north to Mono Lake's tributaries in 1913. In fact, a look back through the archive reminded us that 100 years ago Los Angeles was actively involved in public debates related to Mono Basin hydropower, staking and protecting their claim to divert the full flow of Rush, Lee Vining, Parker and Walker creeks.
We have been following the centennial celebration plans with interest, and Mono Lake Committee Executive Director Geoff McQuilkin will be in downtown LA on Tuesday for the anniversary day itself … follow along on Instagram!