As of 10:30am this morning the Marina Fire is still burning just north of Lee Vining along Highway 395. According to Inciweb, the fire spread has been mapped at 819 acres and is 5% contained.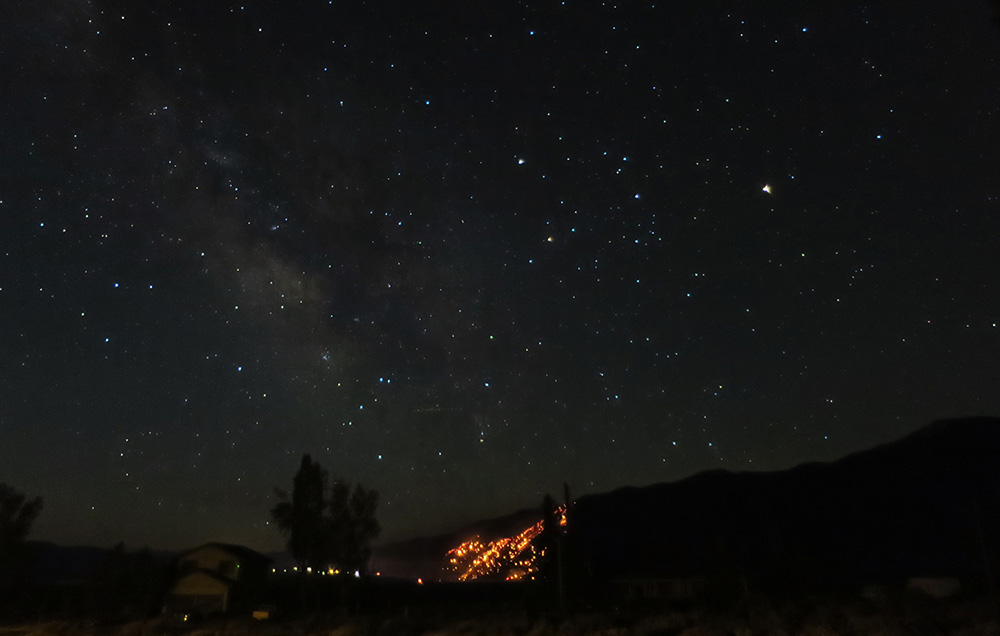 Highway 395 is closed in Lee Vining on the south, and closed at Highway 167 on the north. There is no estimated opening time right now; the highway is reported to be closed due to rockfall on the road.
Last night the Tioga Lodge, the Mono Inn, and additional residences in that area were evacuated, and that evacuation order remains in place today. The evacuation advisory issued for Lee Vining and Mono City remains in place today.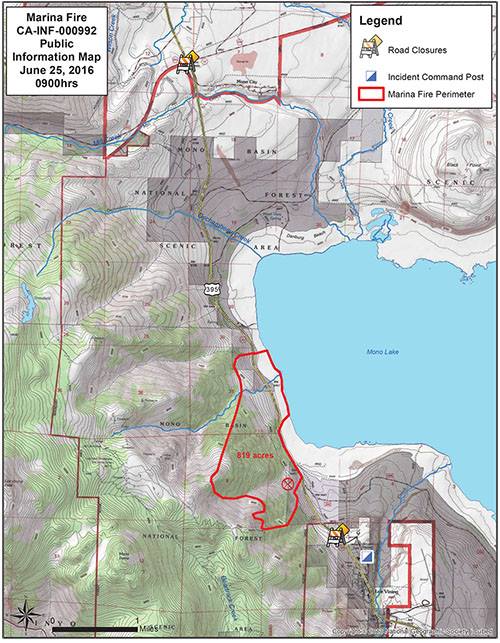 Yesterday the fire spotted across Highway 395 south of Mono City, pushed by strong down-canyon winds. Today is warm and dry again, with similar down-canyon winds anticipated this afternoon, so crews are continuing to secure firelines near the communities and the highway. Approximately 300 personnel are here on the fire: seven hand crews, 23 engines, six helicopters, two fixed wing aircraft, and two dozers. The fire has been determined to be human-caused and remains under investigation.
We will keep you updated on the fire in the Mono Lake Committee Information Center & Bookstore (open 8:00am–9:00pm daily as long as we are not evacuated) and here on the Mono-logue as well as on Facebook, Twitter, and Instagram. Caltrans posts updated road information here. For more background on the fire, see previous updates from the Mono-logue here.
We are so grateful to all of the firefighters working on this fire—thank you for your efforts to keep our communities safe.
Helpful links:
For updated detailed information on the fire, see InciWeb
For general fire updates, see Mono County Sheriff on Facebook
To check the official Caltrans highway information, see Caltrans road information
Suggested detours:

Northbound Highway 395: Take State Route 120 East toward Benton. At Highway 6 go north to Nevada State Route 360, and north of Highway 95 to the junction of State Route 359. Go west on State Route 359 to State Route 167, which will take you back to Highway 395. This is a 3+ hour detour; please check a map to make sure it is the best route for you before you leave.
Southbound Highway 395: Take State Route 167 which turns into Nevada 359 to the junction of Highway 95. Go south on Highway 95 to State Route 360. At the junction of Highway 6 go south to Highway 395. This is a 3+ hour detour; please check a map to make sure it is the best route for you before you leave.