This post was written by Erika Obedzinski, 2009 Office Director.
One afternoon several weeks ago Elin and I were in the main Mono Lake Committee office when the phone rang. Elin answered and soon passed the call on to me letting me know it was someone working on a film in Los Angeles who had a question for us. Assuming it would be a permit question I would need to pass on to State Parks, it was a fun surprise when I got on the line and James Burkhammer told me he was working on a film with actor and director Mark Ruffalo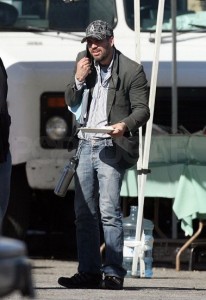 and actor Orlando Bloom–he wanted to know if we would send them our stainless steel logo water bottles for the cast and crew! They would credit the Committee at the end of the film and do a "product placement" of our klean kanteen water bottles in the movie. We could send down any Committee materials that we wanted and he would pass them out and he was especially enthusiastic about Mono Lake bumper stickers.
Geoff followed up with James and learned that the costume designer on the crew had one of the Committee's water bottles and Mark Ruffalo noticed it and later went on the Committee's website and was interested in our work protecting Mono Lake, restoring the health of the ecosystem, educating youth, and promoting water conservation to solves the state's water challenges. He wanted to cut back on the waste created by using so many plastic water bottles on the set. His idea was to give each member of the cast and crew a Committee water bottle and not allow plastic water bottles on the set. We agreed to send the klean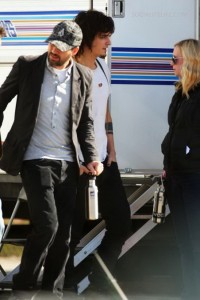 kanteens down – Arya whipped up a fun member sign up card that she, Santiago and I wrapped around the bottles along with our beautiful general brochure and we got the boxes off to James.
Yesterday James called to find out if we could send 16 more water bottles as well as to let us know that there were photos of Mark Ruffalo and Orlando Bloom on the internet with the water bottles in sight. So, here are a few for you! You can view the full photo set here. The film is Sympathy for Delicious and is expected to be released in 2010.