This post was written by Lisa Cutting, 2002-2020 Eastern Sierra Policy Director, 2000-2001 Environmental Resource Coordinator, and 1999 Mono Lake Intern.
In an effort to explore ways to return water to Mill Creek and therefore satisfy its legal obligations, Southern California Edison (SCE) released water from the Lundy hydroelectric plant into the Mill Creek return ditch last September, successfully returning water to the creek (see Fall 2017 Mono Lake Newsletter). The return ditch has been part of the hydropower system for a century. SCE was motivated to do this flow test because of the languishing problem of how to comply with Mill Creek water rights.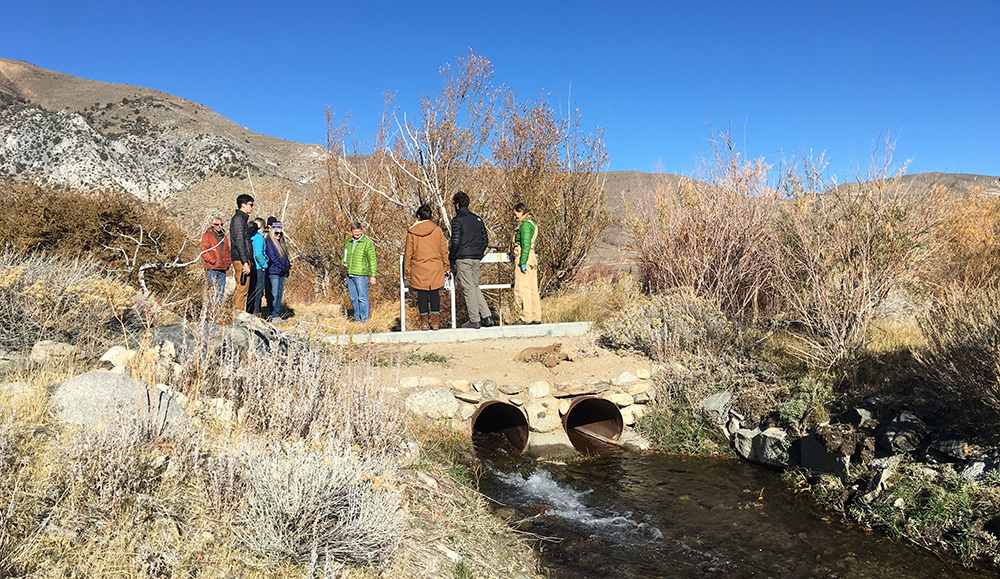 Prior to releasing water into the ditch, SCE evaluated the system and did routine maintenance to stabilize the earthen banks. SCE staff were on site during the test to monitor flows and record flow measurements. During the 61-day test, flows reached 16 cubic feet per second and the return ditch performed quite well.
SCE's efforts and this successful test bode well for Mill Creek, which has been suffering for decades due to infrastructure limitations that result in over 75% of the creek's flow being diverted. Once Mill Creek's water can be successfully returned to Mill Creek, consistent with water rights, the restoration process can begin—especially in the lower reaches where insufficient flow has been detrimental to streamside vegetation.
The Committee continues to work to find a solution that provides flows necessary for Mill Creek's health in compliance with long-established water rights.
This post was also published as an article in the Winter & Spring 2018 Mono Lake Newsletter (page 5).