In a winter full of snow, getting down to the lake has been a bit more challenging and a lot more fun.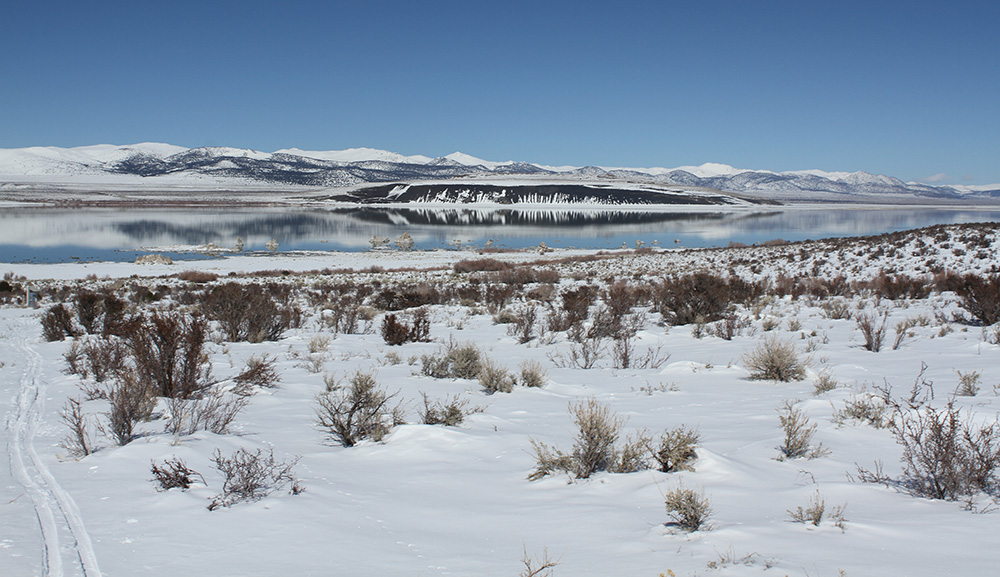 The Mono Lake Committee monitors Mono Lake's level throughout the year, at least once a month and usually more frequently. You can find monthly lake levels going back to 1971 here. The most important lake level reading of the year happens on April 1st, which is the official start of the runoff year (April 1–March 31). The Committee jointly reads the lake level gauge near Old Marina with the Los Angeles Department of Water & Power and this elevation determines how much water can be diverted from the Mono Basin in the coming year.
In the winter it's not so easy as driving down to the gauge for a ten-minute reading. The dirt roads out of Old Marina aren't plowed so our three February and March readings have required a cross-country ski from Lee Vining. The round trip starting near the Mono Basin Scenic Area Visitor Center is just over two miles and gives gorgeous views towards the snow-ringed lake. To time our trips we watch the weather forecast, hoping to snatch a day of calm water between storms. In the end, however, it's best to just keep cross-country ski gear ready in the car and jump on the days when we notice the lake looks particularly reflective on the commute to work!