The fall colors keep getting better and better!
The Tioga Pass area and Conway Summit are at their peak color now—visit in the next few days to enjoy these spectacular spots.
Lundy Canyon is looking beautiful, with green leaves closer to Highway 395 progressing into yellows and oranges farther up the canyon. If you visit Lundy Canyon, expect a rough dirt road from the resort onward and park only in designated spots.
Trees in Lee Vining Canyon and along the June Lake Loop are getting closer to their peak color and should be stunning next week. Sagehen Summit and Virginia Lakes are past their peak color.
The Mono Basin has been full of smoke from wildfires in the southern Sierra Nevada, so check the air quality before you visit. An incoming storm will cause some mountain passes to close tomorrow, so be sure to check road conditions as well. Cold rain, a dusting of snow, and chilly winds can affect the brilliance of the fall color, so the storm could change how the leaves are progressing next week.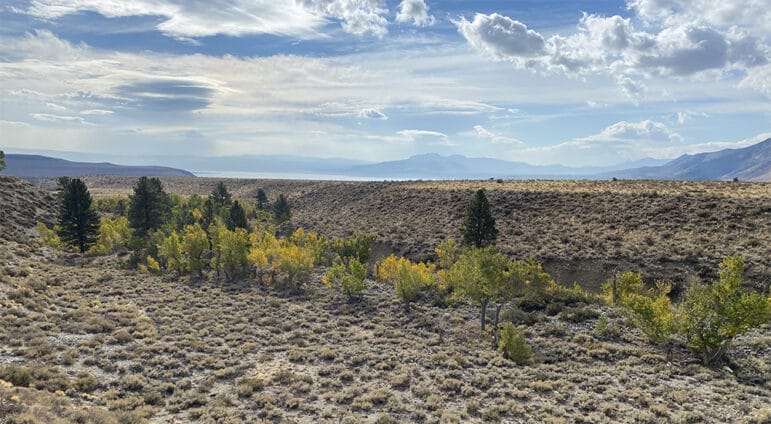 Mono County Tourism updates their fall color report every Wednesday, and it's an excellent source of information about current fall color conditions. The California Fall Color blog is a good source as well, especially the Eastern Sierra category. Keep an eye on our Mill Creek webcam as the fall color season progresses—you'll see the aspens and cottonwoods along the creek turn golden in the next few weeks. And you can always call us for an update as well: (760) 647-6595.
Top photo by Elin Ljung.