Join us for the Mono Basin Natural History: Aquatic & Terrestrial Habitats field seminar, coming up in a few weeks! In addition to two days of exploration on land, this seminar also includes a guided canoe trip on Mono Lake, which offers the best look at this unique aquatic environment.
Mono Basin Natural History • July 8–10 • sign up here
The Mono Basin is one of the most diverse ecosystems on the continent, and this field seminar will cover the rich diversity of mammals, butterflies, birds, wildflowers, trees, and other plants. Since this ecosystem lies on the edge of the Sierra Nevada range and the Great Basin desert, it encompasses a multitude of habitats, from Mono Lake itself to young volcanic domes, to glacial canyons and subalpine meadows at tree line.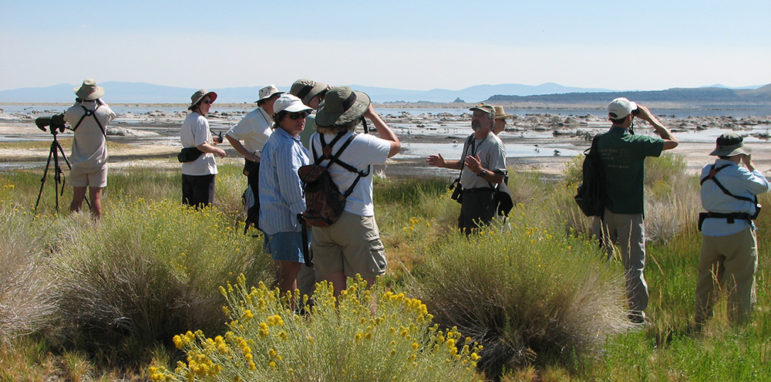 One of the best ways to get an appreciation for Mono Lake's drama and productivity is to explore it by boat; a guided canoe tour of Mono's south shore is included in this class. Mono Lake's simple, yet incredibly productive food chain will come to life as plumes of brine shrimp swim bloom under the boats, alkali flies skate along the surface of the water, and thousands of birds send their calls into the air. The tufa formations are just one geologic aspect of a wondrous basin that includes both the oldest lake on the continent and its youngest mountain range.
Instructor David Wimpfheimer has been educating people about birds and the natural history of California for nearly 30 years. His connection with and love for Mono Lake started with educational work for the Mono Lake Committee in 1983 and continued as he rode in eleven Mono Lake Bike‐A‐Thons. People return again and again to take part in David's relaxed and comfortable seminars that contain a huge amount of fascinating information about the natural world.
Mono Basin Natural History • July 8–10 • sign up here
Top photo by Elin Ljung.