If you've visited the Mono Lake Committee Information Center & Bookstore in Lee Vining, then you've walked on our unique and lovely historic floor.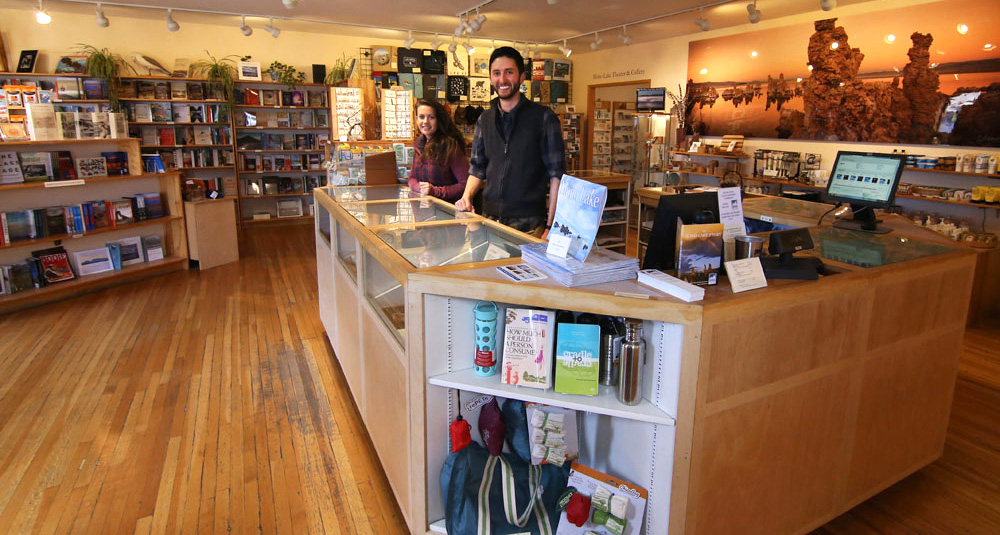 The wooden floor is original to the building, which was built in the 1930s and used as a dance hall where miners, ranchers, and Los Angeles Department of Water & Power employees used to party after long days of work extending the Los Angeles Aqueduct to the Mono Basin. In a serendipitous twist of fate this floor is now walked on daily by our dedicated staff and members who are working to protect and restore Mono Lake after the many years of excessive water diversions.
The whole floor needs refinishing, especially areas around the front desk that have been worn down over time by the many visitors who come to us for information regarding Mono Lake. In order to preserve this little piece of history, and improve the appearance of the Information Center & Bookstore, we will be completely sanding and sealing the entire wood floor.
The Information Center & Bookstore will be closed from Tuesday, February 26 until Wednesday, March 13 so we can move all the merchandise and displays into storage, sand and seal the floor, wait for the coats of sealant to dry, and then move everything back into the store.
The front of the store will be closed, but we will still be available to provide visitor information and updates in our back office or via phone. Unfortunately, no bathroom will be available while we are closed (find public restrooms at the Shell Station across the street or at Hess Park). If you are passing through Lee Vining, we hope you'll stop in and say hello at our back door—we're happy to offer you maps, suggestions, and other visitor information, as well as a Mono Lake Newsletter and all the most current information about Mono Lake. You can also give us a call at (760) 647-6595.