It's a straight shot south on Highway 395 from Carson City to Mono Lake, and it's a drive I remember well from the back seat. Driving it myself feels like that moment when you can't remember if something happened in real life or in a dream—a surreal and ongoing deja vu of yellow lines on black pavement. Three years is no time at all in a cosmic sense, but returning to this place after so long feels at once comforting and horrifying. A lot can happen in three years.
As I ascend to Conway Summit, I attempt to recall my first memory of the place, or even my last. But my brain is awash in beautiful and painful memories of the timeless sort—the sort of love for a place and a person that existed once but doesn't anymore. As I crest the summit my eyes brim with tears. I can't believe I have to meet everyone for my new job in this state of emotion, so I push it back. There will be time for tears.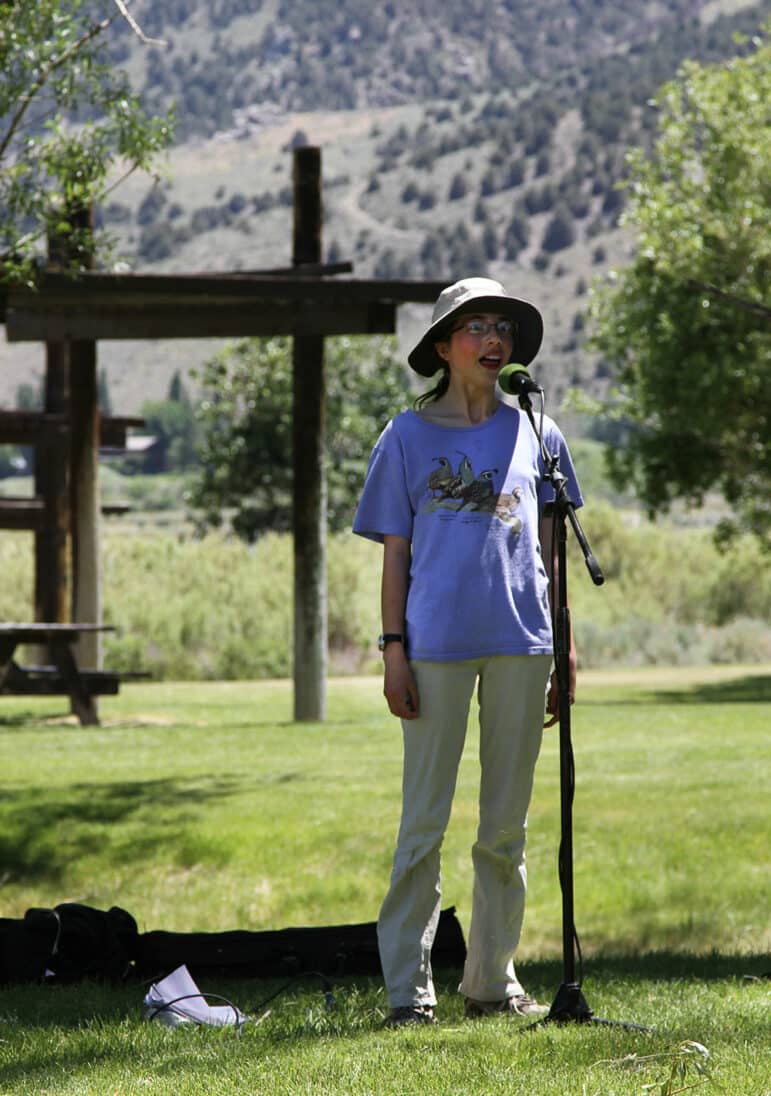 I grew up in Carson City, an Eastern Sierra town just two hours away from Mono Lake. Admittedly, though, it's easy enough not to know the lake even from so close by. None of my friends growing up had much of a connection with the place. The main reason I grew up with Mono Lake was that my dad worked for the USGS and studied the lake. I still don't really know what he did here, but he was certainly obsessed with the geology, hydrology, and of course, the tufa. Many a family day trip or vacation involved Mono Lake, and we attended Millpond Music festival in Bishop every year since I was just three years old, always stopping along the way. It's no wonder I don't have a first memory. When my sister and I became interested in birds, we went to the Mono Basin Bird Chautauqua several times in the early 2010s, and I fondly remember the bird walks with Santiago, the bird calling contest, and Nora's funny dipper dance. I would always split a dish with my dad at the Whoa Nellie Deli and get a muffin from Latte Da. Mono Lake was everything to me as a kid, and I didn't really know what would happen to those memories when I returned. But return I did.
I was thrilled when I got this job as a Mono Lake Intern, if for no other reason than to have a reason to return. I remember telling Rose, Claire, and Lily in my interview that I wanted this job because I missed this place, and I guess that was enough for them to hire me. I think in some way all of us who work here are here because we would miss this place terribly if we left. I know I did. But a lot had happened in my life that made me apprehensive about coming here as well. The pandemic and my dad's losing fight with cancer kept us from coming for those three long years. And of course, I had changed as well. Grief is lonely, and losing a parent feels like losing your childhood and a big part of yourself at the same time. Mono Lake to me was a memory from a time before, before the loss and before the change. Coming here again, alone, and thrown into a new workplace dynamic, was honestly as terrifying as it was exciting. Nobody knew what had happened to me and what it meant for my connection to this place. I felt really alone.
Luckily, I find the lake to have the power of an old friend, its dancing rivulets and swaying clouds bringing peace even in the most painful times. The birds, singing and mating and living their lives, give me the courage to live mine. I would be in a much worse place without them. And of course, slowly but surely, I have begun to find my footing here in this quaint small town full of beautiful people each with their own Mono Lake stories that just happen to overlap with mine. And we make new memories here together—sunset walks, Mamma Mia watch parties, swimming in frigid June Lake, birding in lovely meadows, or simply sitting in the shade on a hot day at Mono Cone and talking about life when it all seems a little too unbearable. I miss my dad and those memories here every day, but at least I know I can still live and breathe the beauty of this lake in the here and now.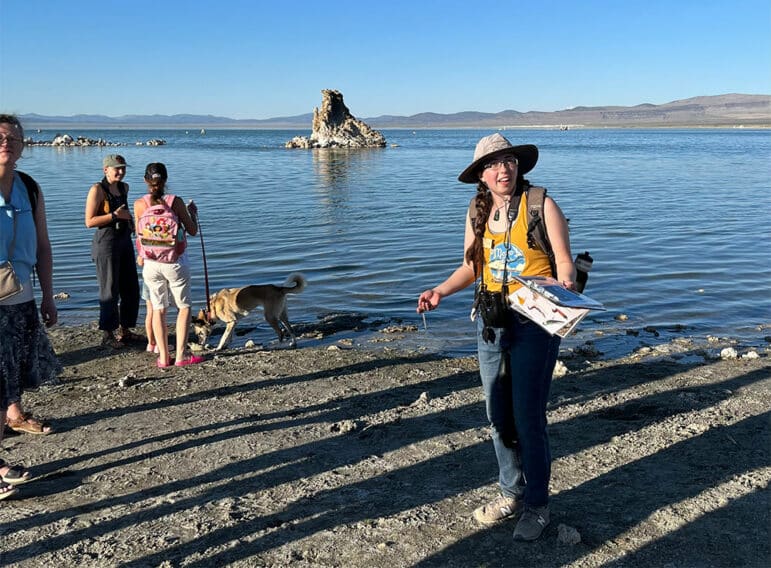 My Mono Lake story is not the only story, of course. Mono Lake's story began long before me, and before colonizers took this land. This place holds the voices of all the people who have been touched by its beauty, and those who have harmed it. I like to think that the lake is a story itself, and we each leave a part of ourselves to its kaleidoscope beauty. I make the theme on my South Tufa tours that this lake is a living and dynamic landscape, and I know now better than ever before why. It's the type of story that becomes a part of you, and you can never leave it. Because Mono Lake is the story.
Top photo by Claire Landowski.