This post was written by Julia Frankenbach, 2014 Project Specialist.
As we welcome the first days of February, Valentine's Day is fast approaching. Whether you want to do something nice for a significant other, a family member, or a friend, the Committee's bookstore is an excellent place to find Valentine's Day gifts for the people who enrich your life. Check out our special selections after the jump, below.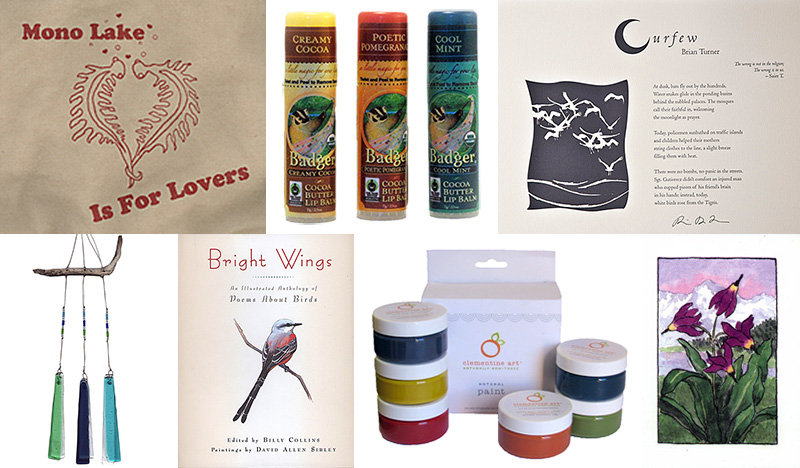 Come visit us in person, browse our online catalog, or call (760) 647-6595 to order your gifts. Please keep in mind: we can guarantee delivery of your package by Valentine's Day only if you place your order on or before February 7. After this day, we cannot guarantee that your package will arrive by Valentine's Day.
Our classic "Mono Lake is for Lovers" artwork was designed by 2006 Mono Lake Intern and longtime local Ryan Carle. Find it on our tan messenger bag!
Give your friend or loved one an experience to remember: the Wild & Scenic Film Festival—Los Angeles in El Segundo on March 6. Wild & Scenic LA is the only way to see this collection of ten unique and award-winning films. Treat someone special to a night of inspiring documentaries and beautiful cinematography while contributing to the Mono Lake Committee. Tickets are $10 per person, or $1 with a new or renewed $25 membership.
For a classic but unique Valentine's Day gift, add some flowers to one of Eastern Sierra resident Ron Overholtz's hand-turned aspen vases. Ron turns downed aspen wood on a lathe, waxing the vases and filling voids with his trademark turquoise.
For an alluring mixture of art and poetry, see our twelve limited collector's edition broadside prints, which commemorate the annual Tuolumne Meadows Poetry Festival in Yosemite National Park. Each print features a unique poem by a poetry festival participant, creative typography by Bradley Hutchinson, and beautiful illustrations by Jim Cokas.
Show your appreciation for a friend or loved one with a one-of-kind piece of local art. Acclaimed Yosemite painter Penny Otwell visits the Mono Basin often—her 11″x 14″ prints "Black Point" and "Lundy Aspens" are perfect for the Monophile in your life.
Bring a splash of color to your friend's or loved one's doorway with one of Loey Siering's color chimes. A Crowley Lake local, Loey makes her chimes from fused recycled glass and found wood.
Our lip balms, felted soaps, and candles are all-natural, sustainably crafted gifts you can feel good about giving. Paired with a fresh bouquet or box of sweets, they make excellent Valentine's Day gifts.
Give the perfect Valentine's gift to a special child with our Clementine Art paints. Clementine Art makes non-toxic, vibrant, and easy to use children's art products. These natural paints come in the six colors of the rainbow in individual 17-ounce pots and are appropriate for children age 3 and up.
Give the romantic gift of verse with our beautiful book of poetry, Bright Wings, by former US Poet Laureate Billy Collins. Collins matches classic and contemporary poems about birds with David Sibley's detailed avian illustrations.
Top your gift with a tiny wildflower notecard from Bishop local Susan Greenleaf. The notecards come in a pack of ten with matching envelopes, and each card features a different Eastern Sierra wildflower.
From Mono Lake, we hope you enjoy your Valentine's Day shopping. Remember: "Mono Lake is for lovers!"