Saline lakes are in steady decline around the world. Treasures on a planet of primarily freshwater lakes, saline lakes are unique, wild, and fascinating in their own right, as well as critical niche ecosystems in which birds and people live.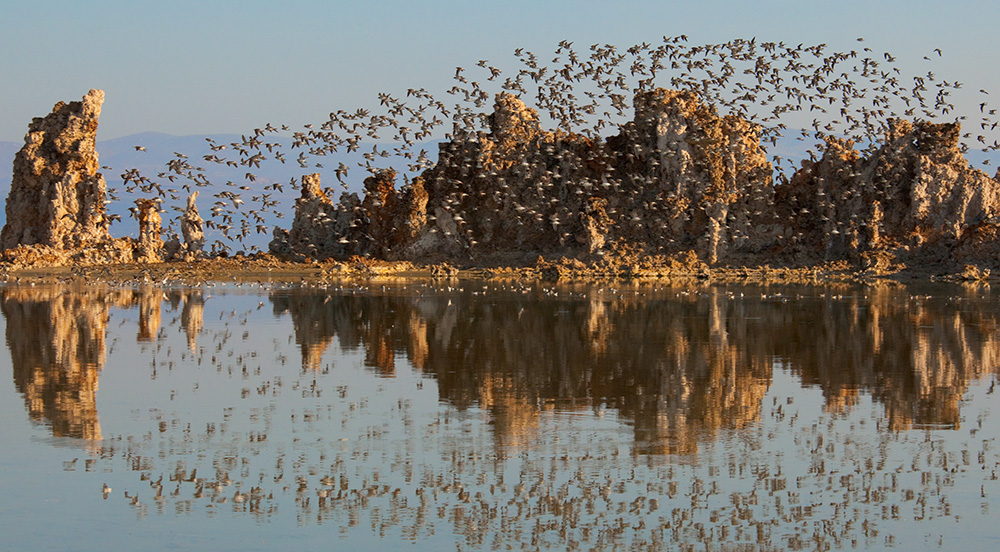 Because they are located in arid and semi-arid regions where evaporation loss is significant, water diversions have an increased impact on these lakes. Diversions have, in some cases, led to ecological collapse and loss of fisheries and/or critical bird habitat along with catastrophic air quality problems. Climate change is frequently blamed, but saline lakes began shrinking and disappearing decades ago as water diversions increased well ahead of global temperature rise. The Aral Sea in Uzbekistan and Kazakhstan, Great Salt Lake in Utah, Abert Lake in Oregon, the Dead Sea in Jordan and Israel, Bolivia's Lake Poopó, Iran's Lake Urmia, Walker Lake in Nevada, and Owens Lake are among the current examples of languishment or loss—the result of perennial, unbalanced water diversions from tributary sources.
Mono Lake stands apart
Today, with an active lake-level management plan backed by legislative support of the public trust, Mono is likely the only salt lake ecosystem on earth with meaningful protection on a watershed scale. The 1994 California State Water Resources Control Board Decision 1631 established a clear management plan for Mono Lake in terms of lake level, water diversions, and mandated restoration. The plan was designed to balance the ecological health of Mono Lake, fisheries in tributary streams, and air quality with the legitimate water needs of Los Angeles, while recognizing that drought years and wet years were inevitable.
Climate change was not a consideration when the State Water Board issued its decision in 1994; however, the decision helped Mono Lake endure the 2012–2016 drought—the worst to impact California in centuries. Exacerbated by climate change, the drought lowered Mono Lake seven vertical feet. As Mono Lake fell, the State Water Board rules restricted the Los Angeles Department of Water & Power's (DWP) water diversions from Mono Basin streams based on lake level. Mono Lake fell, but its ecosystem remained protected.
Los Angeles endured the drought as well, but remains resilient—with less water. The drought pushed the city to reduce overall water consumption to 50-year lows in spite of decades of population growth. This is a story inextricably linked to the protection of Mono Lake, and a city ethos shaped by drought, climate change, and the environment. The city leadership is unflinching—charging ahead with plans for stormwater capture and 100% wastewater recycling.
Mono's sister lakes
During the recent drought, Great Salt Lake reached its historic low, and Abert Lake shrank to a mere puddle. Both lakes are sister Great Basin salt lakes that collectively support a global migratory network of shorebirds and waterfowl numbering in the millions. Their future looks unsteady. No authority oversees lake level at Abert Lake or Great Salt Lake, and there are no other saline lakes in the 209,000 square miles of the Great Basin that have comprehensive safeguards for ecosystem function, air quality, and recreational and scenic values. Mono Lake is alone.
In the Western Hemisphere south of the equator, the plight of saline lakes travels a similar path. South America is home to a number of saline lakes along the Altiplano, or Andean Plateau. Many of these lakes share the same hemispheric species of shorebirds with North America. Like their unprotected sister lakes in the Great Basin, Altiplano lakes are managed neither for ecosystem health nor human health. Mining has rapidly expanded in the region. Together with agricultural diversions, these water uses accumulate over time, impacting a fragile desert hydrology.
In 2015 Lake Poopó went dry, its fishery blinked out, and untold numbers of shorebirds, waterfowl, and flamingoes lost habitat. Like a large and deadly game of musical chairs, as saline lakes and their wetlands go dry, birds are further squeezed into fewer remaining habitats, incapable of supporting population numbers that existed just decades ago. The Bolivian government claims that climate change is to blame, but the dramatic uptick in mining operations impacts the fragile hydrologic system feeding Lake Poopó, which is further confounded by heavy metal contamination from the mines. The impaired hydrology of the region is now increasingly vulnerable to climate change.
Prevention vs. expensive intervention
Well before the struggles facing Lake Poopó, Great Salt Lake, and Abert Lake, there was the Aral Sea, Owens Lake, and recently, Lake Urmia. These lakes have declined to various stages of ecological collapse, causing economic hardship and unhealthy air quality for people living in the region. However, there is an example of partial redemption.
Owens Lake, dry for decades, is now intensively managed to mitigate for unhealthy air quality, and is rapidly rebounding with bird life. Shallow irrigated ponds, managed to submerge portions of a dry lakebed that would otherwise emit unhealthy particulate matter, also provide habitat for alkali flies that in turn draw American Avocets, Western Sandpipers, California Gulls, Black-necked Stilts, and other migratory birds by the thousands. While Owens Lake will not refill, nor has its true ecological value been restored, it is no longer a complete ecological disaster. Twenty years of work and $1.5 billion later, air quality in the Owens Valley has dramatically improved, and quite unexpectedly, so has bird habitat. Managing the lake is not cheap, and DWP will continue to pay for the cost well into the future, but Owens Lake has a management plan that uses very little water, and makes sense for at least one saline lake that had no other pathway back from catastrophe.
There is immense economic and ecological value in managing saline lakes long before diversions reduce them to dust. In part, because of the loss of Owens Lake, efforts to protect Mono Lake became more urgent in California. Economic, cultural, social, environmental, and political hurdles to conserving saline lakes around the world are substantial, but climate change is not the excuse for decline and inaction. Mono Lake and Los Angeles are an inspiring example of what we can accomplish for saline lakes in spite of climate change.
We do not have to settle for a future of dwindling saline lakes. Finding solutions that involve more efficient and thoughtful use of water backed by strong management plans can be a path forward for people, birds, and saline lakes.
What about the Salton Sea?
Formed in the early 1900s as a result of a breached canal carrying Colorado River water, the Salton Sea is not located in the Great Basin, like most of North America's other saline lakes. However, over the last hundred years it has become critical habitat on the Pacific Flyway for millions of birds of nearly 300 species. The Salton Sea has become, in essence, substitute habitat for many of these birds since the Colorado River Delta has dried up, including Eared Grebes and others that arrive from Mono Lake.
The Salton Sea is also unusual because agricultural diversions have sustained it instead of depleted it—its inflow comes primarily from agricultural runoff from farms in the Imperial Valley. However, in 2003, Colorado River water that filled the sea in the form of agricultural runoff began to be diverted elsewhere. Water that partially compensated for that loss was cut off in 2017, accelerating the rapidly falling water level, habitat loss, and toxic dust blowing off miles of exposed dry lakebed.
State, federal, and regional officials have long seen the air quality and habitat loss crises coming, but plans to control dust and restore wetlands have been stymied by the high costs of implementation, bureaucratic issues, and the 2012–2016 drought.
This year has brought hope for the Salton Sea. For the first time, California has allocated substantial funding for habitat restoration and dust mitigation. Governor Gavin Newsom, the State Water Board, and the Natural Resources Agency have recommitted to implementing the Salton Sea Management Plan. As at Mono and Owens lakes, it will take a monumental effort from state agencies, water districts and managers, elected officials, non-profit partners, and community organizations to create a sustainable future for the Salton Sea.
This post was also published as an article in the Summer 2019 Mono Lake Newsletter (pages 6 & 7).