This post was written by Max Henkels, 2012 Mono Lake Intern.
After a 36-week flight, the NASA rover Curiosity made a safe landing on Mars in early August, marking the start of the most comprehensive and sophisticated Mars mission to date. What, you might ask, does Curiosity's mission have to do with Mono Lake?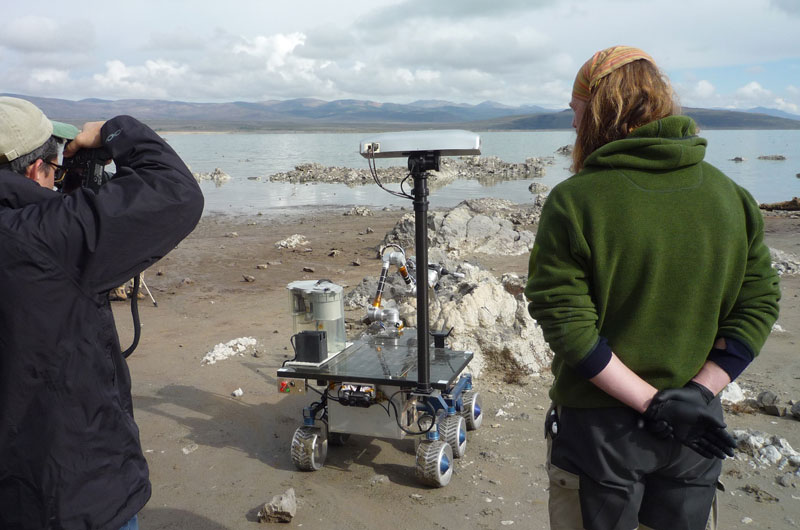 From the study of extremophiles to the testing of new equipment, NASA has been involved with research in the Mono Basin for decades. Although none of the development that went into the Curiosity rover occurred at Mono Lake, the next Mars rover, set to launch in 2018, will feature a robotic drill tested by the shores of the lake. In 2010, NASA scientists and their partners at the Jet Propulsion Laboratory tested the computer codes for the drill by boring into tufa near Old Marina. By taking core samples of similar calcium carbonate formations on Mars, the researchers hope to find further evidence about the past conditions and perhaps even find evidence of ancient life itself.
The main objective of Curiosity's two-year-long exploration is to investigate the historic possibility of life on Mars. Using ten different instruments to gather geologic and climatic data, researchers hope determine whether past Martian climates could have once supported microbial life. As in the Mono Basin, NASA scientists believe the basis for life on Mars begins with water. There is significant evidence that Martian basins once held standing water and an ancient alluvial fan once existed near Curiosity's landing spot in Gale Crater. From the floor of the crater, Curiosity will then climb Mt. Sharp, a 20,000 foot-tall peak with a geologic record that may stretch back over a billion years.
The dynamic history of Mono Lake has shown the resilience and peculiarity of life on Earth.  Someday soon, its unique geology may help expand this understanding beyond Earth itself. If you're interested in more information, here are some links about the rover testing at Mono Lake:
Scientific American: A Wet Run for a Dry Planet: NASA Tests Drilling Technology in the Desert with Mars Sample Return in Mind
The Mono-logue: Rain delays Mars rover tests at Mono Lake