There are so many ways to help Mono Lake! Recently a member from Minnesota used his particular passion to donate time and resources to Mono Lake.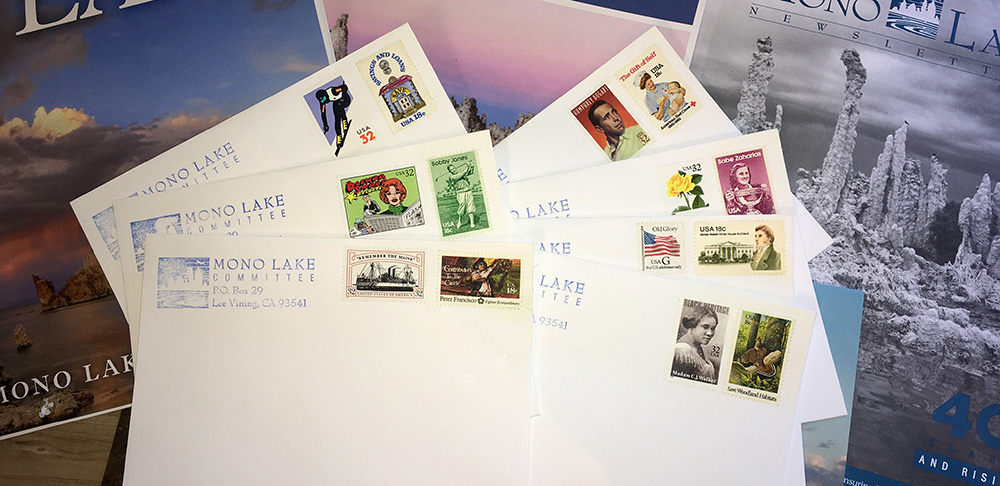 Dr. Charles Gessert is a lifelong stamp collector and has been a Mono Lake Committee member since 1985. To build his stamp collection, Charles would buy entire collections at auctions. But this led to excess stamps, so a few years ago he started donating the stamps he didn't need to local charities to use in their correspondences. He said he enjoyed these connections because it gave him the opportunity to get to know these organizations and their volunteers better. So Charles began purchasing stamps from auctions specifically to donate, usually procuring them at a reduced rate. He now uses student volunteers to assist him while he places stamps on envelopes. He believes that when stamps are interesting, recipients will be more eager to open an envelope.
Charles first became acquainted with Mono Lake when his not-yet-wife, Barbara Stark, worked as an intern for the Committee in the mid-1980s. Observing the impact that water diversions had had on Owens Lake, he understood the importance of protecting Mono Lake. Charles & Barbara left California in 1989 but have continued to support the Mono Lake Committee from afar.
Last month, Charles contacted Membership Coordinator Ellen King and asked if we would be interested in a donation of postage. We gladly accepted and Ellen packed up a box of envelopes with the Mono Lake Committee return address and sent them to Minnesota. A week later the box was returned with immaculately-placed, vintage stamps! We've already gone through most of the box and Charles has renewed his offer to give more.
Keep your eye out for a fun stamp on your next mailing from the Mono Lake Committee!