After more than five years of planning and public process, Inyo National Forest Supervisor Tammy Randall-Parker signed and released the Final Record of Decision for the Inyo National Forest Land Management Plan on October 23, 2019.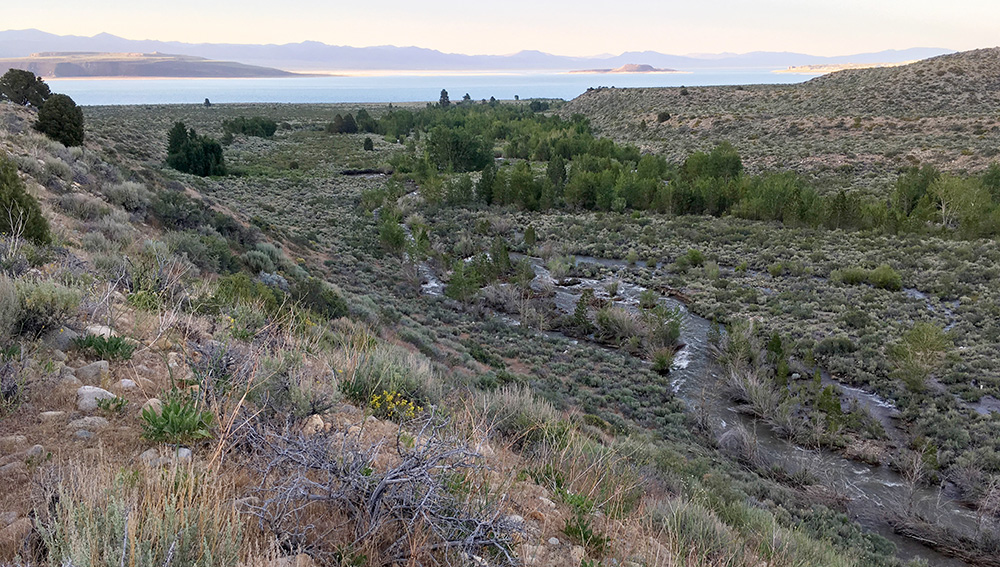 The new Forest Plan replaces the 1988 version, and will provide much-needed and updated management direction for the Inyo's two million acres. Included in the final plan are area-specific desired conditions for the Mono Basin. In addition to management direction for the Mono Basin National Forest Scenic Area (incorporating existing Scenic Area Management plan guidelines), the new plan includes additional Wild and Scenic River System eligibility for 15 segments of Mono Basin streams—something the Mono Lake Committee advocated for extensively.
The 2019 Forest Plan recognizes the inclusion of the Mono Basin's five streams for Wild and Scenic River eligibility: Lee Vining Creek, along with extensive segments of Mill Creek, Parker Creek, Walker Creek, and multiple segments of Rush Creek. While the new plan does not designate these streams as part of the National Wild and Scenic Rivers System, it recognizes them as eligible for future designation due to their outstanding natural, cultural, or recreational values. Wild and Scenic River eligibility affects future management decisions on the Inyo and it opens the possibility for future designation by Congress.
The 2019 land management plan also recommends approximately 25,000 acres of new wilderness areas in Mono County: Adobe Hills, Huntoon Creek, and South Huntoon Creek areas east and southeast of the Mono Basin near the Nevada border.
The Committee has been involved in the Inyo Plan revision process since 2014—advocating for Wild and Scenic River eligibility for Mono Basin streams through public and written comments, and presenting incisive stream information and photo documentation in the formal objection process in early 2019. Continued engagement and a coalition of interested parties including Friends of the Inyo, Mono County, California Wilderness Coalition, and the Sierra Forest Planning Coalition helped make the case that Wild and Scenic River eligibility was warranted for Mono Lake's tributary streams as they are being restored.
A number of Mono Basin streams had little to no flow in their lower reaches when the 1988 Forest Plan was crafted. At the time, the Los Angeles Department of Water & Power was fully diverting these streams, and the State Water Board-ordered restoration and habitat recovery of Mono Basin creeks due to Decision 1631 would only come well after the 1988 Forest Plan was adopted. Today these streams are flowing once again and providing outstanding scenic, recreational, and historic values. They are an icon of stream restoration ecology, and a national resource for what can be accomplished with ecological restoration after decades of damage.