In early August the Mono Lake Committee hosted four journalists from Utah who were here in the Eastern Sierra as part of the Great Salt Lake Collaborative, searching for solutions at the Great Salt Lake's sister lakes across the Great Basin. The Great Salt Lake is now at some of its lowest levels in history, and like Mono Lake and Owens Lake, faces a severe air pollution problem from dust blowing off the exposed lakebed.
The Collaborative is a group of "news, education, and media organizations that have come together to better inform and engage the public about the crisis facing the Great Salt Lake—and what can be done to make a difference before it is too late." The journalists also visited Owens Lake while here in the Eastern Sierra. As Leia Larsen of the Salt Lake Tribune wrote, "We asked almost all of those we met what advice or suggestions they had for the Great Salt Lake."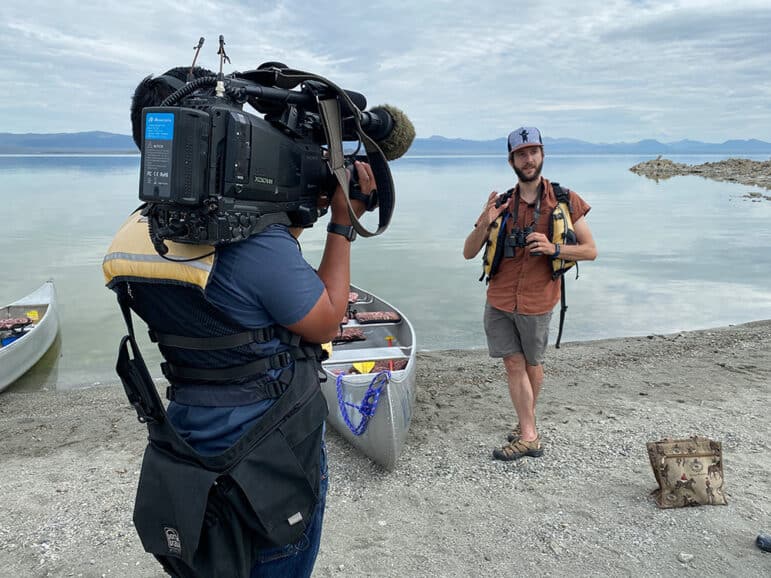 The news stories those journalists have been working on are now being published. A number of Utah outlets across print, TV, and radio are running the stories, including the Salt Lake Tribune, Utah Public Radio, and KSL-TV. We even had a member in Salt Lake City send us photos of the screen when he saw Executive Director Geoff on TV!
We recommend starting with the At Water's Edge series of story maps, which includes an introduction and stories on Owens and Mono. Then check out the latest news section and keep up with all the great stories coming out every day.
Mono, Owens, and Great Salt Lake are connected by birds, extractive histories, and dedicated people working to protect them. We were happy to offer perspectives and lessons to our sister saline lake!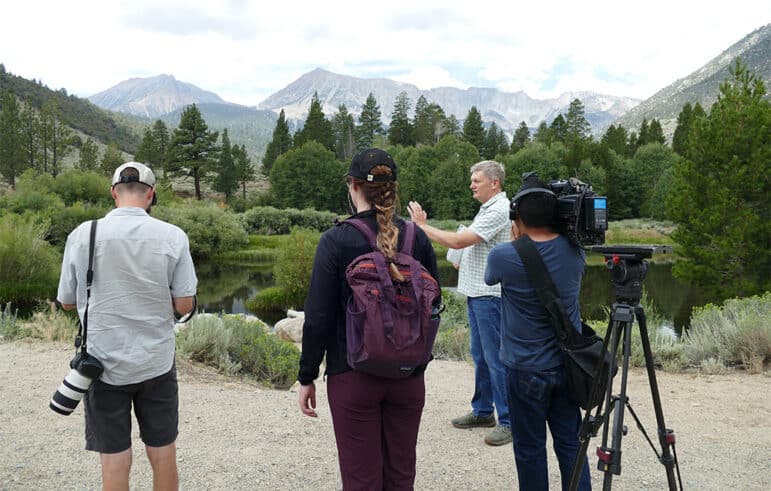 Top photo by Elin Ljung: Rose Nelson, Mono Lake Committee Education Director, orients the journalists to Mono Lake by canoe.