This year, to commemorate the Mono Lake Committee's 40 years of protection, restoration, and education work in the Mono Basin, we created a guestbook for visitors to sign in the Information Center & Bookstore. Visitors from around the world signed their names and shared their favorite Mono Lake moments. In fact, visitors from 21 countries, 24 US states, and 139 different cities signed the guestbook this summer.
Reading through each entry, it's clear how much Mono Lake has made an impact on all who have visited. One visitor wrote about experiencing hail in a thunderstorm at South Tufa, another wrote about bringing an old friend to see the lake at night and stargazing, another said witnessing sunrise over the tufa was their favorite moment. Many visitors wrote about kayak trips on the water, camping in the Mono Basin, walks among the tufa, and bird watching in the Mono Basin.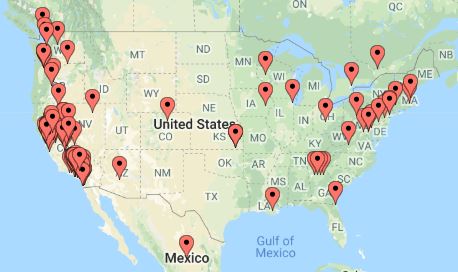 Thank you to everyone who signed the guestbook this year and shared their stories. Next time you're in Lee Vining, be sure to sign our new guestbook and tell us about your favorite moment. You can also share your stories on social media using the hashtags #monolake and #monolakecommittee.