This post was written by Julia Runcie, 2011 Mono Lake Intern.
Over the past several years, a dense monoculture of invasive sweet clover has grown up around the David Gaines Memorial Boardwalk at Old Marina. Along with the Mono Lake Committee, Friends of the Inyo, and California State Parks, local residents, summer visitors, and students from Los Angeles donated over 300 hours of their time to removing sweet clover this past summer, and we successfully cleared nearly the entire boardwalk of this troublesome weed.
Yet invasive plants removal cannot be accomplished through a single management technique. This year, instead of simply uprooting the sweet clover, we decided to give it something to compete with. Following the last pulling party I went back to Old Marina and waded through the brush on either side of the boardwalk to collect native seeds. I was astonished by the beauty and diversity of the native grasses, sedges, rushes, forbs, and shrubs growing just beyond reach of the band where sweet clover had monopolized the soil. Notwithstanding allergies and thunderstorms, I spent hours filling paper bags with a mixture of Great Basin wild rye, blazing star pods, Indian ricegrass, foxtail barley, muhly, saltgrass, and rabbitbrush (just to name a few of the wealth of plant species I collected).
On Friday, September 23, a group of volunteers gathered at Old Marina. Mono Lake Committee staff and members, Mono Lake Volunteers, and Outdoor Experiences Program participants from LA were all present to lend a hand. Each person was given a bag of native seeds, and we scattered the seeds over the newly-cleared ground along the boardwalk. After planting all their seeds, everyone plunged into the wilderness of native plants flourishing beyond the boardwalk and refilled their bags with a new seed mixture. We'll store these seeds through the winter and use them as soon as the snow melts in the spring for another planting. With any luck, next season will see a profusion of native plant species growing where sweet clover once held sway.
Having worked on the Mono Lake Committee's Invasive Plants Project for the past 16 months, I found it immensely gratifying to be part of a new phase in the project. Instead of simply tugging weeds out of the soil, possibly scattering their seeds and certainly leaving disturbed ground for next summer's weeds to monopolize, we have begun a proactive campaign of fostering native plant growth in affected areas.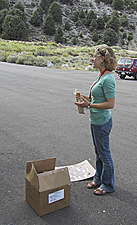 Today is bittersweet for me. It's my last afternoon of work at the Mono Lake Committee, and the Invasive Plants Project is only one of the many things I'll be sorry to leave behind. Still, it's great to know that my extraordinary colleagues will be here to pick up right where I left off, and to take my projects in creative new directions. I'm deeply concerned, however, by the impending closure of the Mono Lake Tufa State Natural Reserve. If closure takes effect, Old Marina may be barred to public access and the community-based restoration we've initiated there will cease. I encourage all of you to take action now to defend our public lands and the crucial stewardship work we do to protect them. Please visit our Action Center to make your voice heard.
Wherever my next steps lead, I look forward to returning to the basin soon and often to witness the latest stage in the restoration of beautiful, valuable, unforgettable Mono Lake.