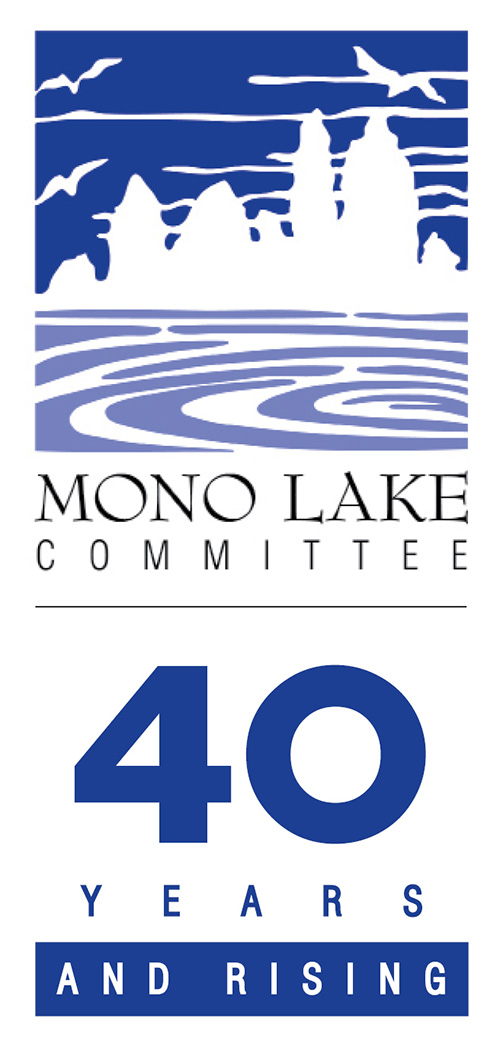 Editor's note: To celebrate the Mono Lake Committee's 40th anniversary in the Newsletter, Sally Gaines, co-founder and Board Chair, is writing a series of reflections on the past, present, and future of the organization.
Even if I squint or put on my reading glasses, most aspects of the future are impossible to foresee, as if the crystal ball is clouded with brine shrimp like the aquarium in the Mono Lake Committee Information Center & Bookstore.
Everyday technology and style is already beyond my understanding. Genetic engineering on plants, animals, and humans is a big unknown as is artificial intelligence, for just a couple examples. What is clear to me is that everything the Mono Lake Committee does today is with the future in mind.
If the weather stays dry and the lake does not rise, a new water regime will be sought at the State Water Board. On a smaller scale, we watchdog such activities as road construction, illegal drone use, and people climbing on tufa.
The heavy machinery that was used to reopen dry creek channels in the 1990s has been replaced by adaptive management practices that restore natural stream processes. Staff walk the creeks to monitor streamflows, the growth of riparian vegetation, and the return of fish and wildlife.
The Mono Basin Outdoor Education Center provides eye-opening watershed learning experiences so the next generation of Los Angeles voters and policy makers value the environment. We introduce LA youth to their watershed by canoeing, climbing mountain peaks, and doing stewardship projects so they know where their water comes from.
Committee policy work depends on solid, factual science. There is always more to learn about lake level modeling, avian nesting and migration, and how climate change will affect the area. The Mono Basin Field Station is full of researchers adding to this knowledge and giving presentations for the public in the bookstore.
Our college-aged summer interns go on to be teachers, professors, lawyers, and leaders at non-profit organizations. These young people also bring new technology and world views to Lee Vining. As things evolve, so does the organization. Another generation of staff will carry on, learning and succeeding as they go.
The Committee has to be ever vigilant about protecting water for the lake and streams and keeping up with the changing dynamics of a populous state and younger constituents. I believe there will be continued support for Mono Lake's longevity by grassroots citizens and visitors from around the world.
Hurrah for the future—Long Live Mono Lake!
This post was also published as an article in the Fall 2018 Mono Lake Newsletter (page 5).