Will you be in Lee Vining on Saturday morning, July 17? If not, you might want to consider a trip just for this….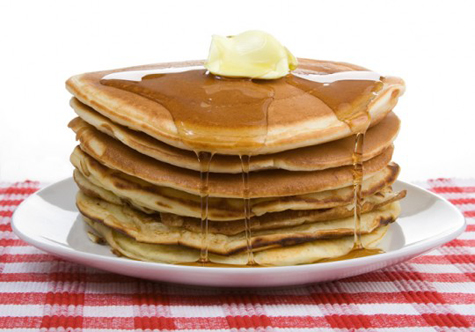 From 7:00—11:00am you can get the best pancakes around at the Lee Vining Community Center. This gourmet breakfast fundraiser benefits Lee Vining High School, and with the recent consolidation of Lee Vining High with the Eastern Sierra Academy, a lot of exciting projects need funding.
If you've been to the Whoa Nellie Deli, then you know what kind of delicious food Chef Matt "Tioga" Toomey turns out … and you won't want to miss his pancakes. The menu includes your choice of:
— Maui-style coconut pancakes: toasted coconut flakes, macadamia nuts, whipped butter, and fresh coconut cream
— mountain wild berry stack: fluffy buttermilk pancakes with fresh wild berries, whipped butter, and homemade whipped cream, or
— traditional buttermilk pancakes: with maple syrup and whipped butter
Gourmet coffee or milk, fresh orange juice, fruit, and breakfast sausage included with each meal.
Tickets are $8.00 for adults and $4.00 for kids. All proceeds will support school programs developed during the recently-completed community visioning process with Lee Vining, June Lake, and Bridgeport parents, students, and community members. Go Tigers!