Last month, the Mono Lake Committee celebrated an ecological success thousands of miles away from the Mono Basin. On June 30th, Mar Chiquita, a saline lake located in central Argentina, and its surrounding wetlands were officially granted national park status by the Argentinian government.
You might be thinking, what exactly does a national park designation in South America have to do with Mono Lake? Mar Chiquita is a sister lake to Mono Lake and the Great Salt Lake—all three lakes are part of the Pacific Flyway, the route that hundreds of species of migratory birds follow back and forth from their nesting grounds to their wintering sites every year.
There is one species in particular that is observed both at Mono Lake and at Mar Chiquita: the Wilson's Phalarope. After nesting in the northern United States and southern Canada, flocks of these unique birds make their way to Mono Lake by the tens of thousands to feed on brine shrimp and prepare for their journey to Mar Chiquita. The phalaropes are present at Mono Lake from early-July to mid-August, and can often be seen flocking in beautiful aerial formations around South Tufa. After molting their breeding feathers and doubling their weight, they begin the second half of their journey. In less than a week, the phalaropes travel 3,000 miles to Mar Chiquita, where they remain for the winter months before repeating their impressive migratory cycle.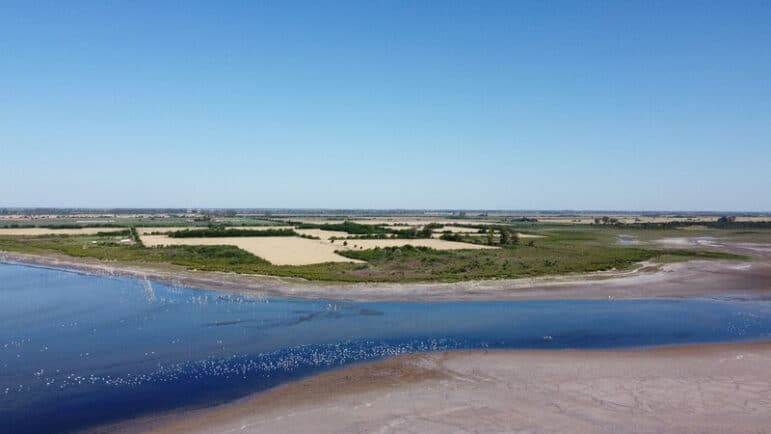 Through Wilson's Phalaropes, the ecosystems of Mono Lake and Mar Chiquita are linked. Therefore, a win for Mar Chiquita is a win for Mono Lake—national park status ensures that Mono Lake's phalaropes will have a safer place to winter, positively contributing to the health and longevity of the species.
Mono Lake wouldn't be the same without its phalaropes, so celebrating Mar Chiquita's new designation as the Parque y Reserva Nacional Ansenuza feels just like celebrating our successes right here at home.
Top photo courtesy of Maxi Novarino.