This fall the California Department of Resources Recycling & Recovery (CalRecycle) began work to remediate the former Lee Vining Burn Dump site adjacent to the Mono Basin National Forest Scenic Area Visitor Center, which, like many old dump sites was out of compliance with state regulations. The project consolidated and covered approximately 1,800 cubic yards of old waste that was mostly buried and revegetated from an old dump site that closed in 1972, immediately northwest of the Visitor Center parking area. Unfortunately, adequate environmental studies and documentation were not completed for the remediation project, and legal public notice was not posted nor was public input gathered before work began.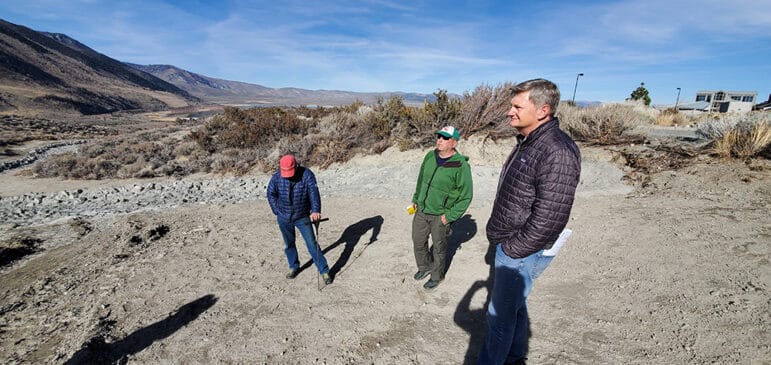 The project identified an existing landscaping berm as a "borrow area" to use as fill for covering the relocated solid waste. The berm was located adjacent to the Visitor Center parking lot, and it was intentionally designed and constructed to enhance the visitor experience. If the remediation project had been publicly noticed or circulated before construction, the berm's original purpose would have been identified. The 0.61-acre fully vegetated berm substantially screened the Scenic Area Visitor Center and parking area from the State Scenic Highway 395 corridor and also blocked views to the highway, focusing the visitor experience toward the Visitor Center and Mono Lake. The berm also protected the parking area from extreme wind and winter snow loading.
Alarmed by the scale of earthmoving and the demolition of the berm, Mono Lake Committee staff requested that work halt on the berm removal and inquired about the project's environmental documentation. After the Committee's inquiries, CalRecycle posted a notice claiming an exemption from CEQA; however, Committee attorneys found the exemption to have a dubious basis because the work is in a federally designated Scenic Area. The removal of the berm and other mistakes on the project site could have and should have been avoided.
The Committee is now working closely with the Inyo National Forest and CalRecycle to get the landscape returned to its former condition. While the Committee and CalRecycle negotiate a settlement agreement, CalRecycle has verbally agreed to rebuild the berm next spring, and all the parties are working on a solution that will commit CalRecycle to successfully revegetating the entire project area, while also fixing newly engineered, artificial drainage channels not constructed to Forest Service specifications.
The Committee is once again working with Michael Hogan, a Tahoe-based expert who helped guide the revegetation of the Lee Vining Rockfall Safety Project with Caltrans, which stands as a model for revegetation success in the Eastern Sierra. Hogan and the Committee are advancing a revegetation plan in collaboration with the Inyo National Forest and with traditional ecological knowledge and assistance from the Mono Lake Kutzadika'a Tribe.
Details are in progress and the outcome will depend on the willingness of CalRecycle to commit to the successful remediation and revegetation of the premiere visitor gateway to the Mono Basin National Forest Scenic Area.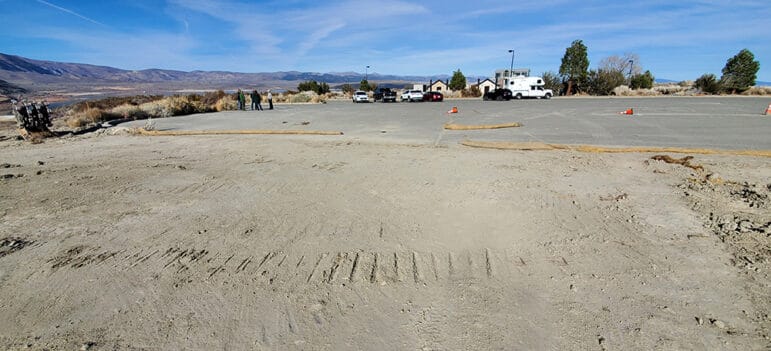 Top photo by Bartshe Miller.