Scientists across disciplines flock to the Mono Basin
Mono Lake is a place where fascinating geology gives rise to vital ecosystems, and the support offered to researchers through our Mono Basin Field Station means that the Mono Lake Committee has the privilege of a front-row seat to the most exciting research in the Eastern Sierra. The Field Station has been humming at full capacity, housing researchers from across the country, and the Committee's research boat has been in use nearly every week since the beginning of June ferrying gear, personnel, and instrumentation.
Heat flow and temperature change
In fall 2021, the US Geological Survey, Southern Methodist University (SMU), University of California at Berkeley, and the Mono Lake Tufa State Natural Reserve embarked on a research project funded by the National Science Foundation to assess heat flow and temperature change in Mono Lake. Matt Hornbach, researcher at SMU, deployed a series of probes into the lake and lake bottom that measure changes in temperature, pressure, and slope stability at the lake floor. The instruments also closely monitor lake water temperatures with depth.
Preliminary results show that the thermal gradient below the lake is anomalously hot—likely the direct result of very recent volcanism within and below the lake floor. There is also significant, anomalous warming of the deep water in the lake that began in late summer 2021 and continued through fall 2022. Their team also deployed a series of atmospheric sensors on Mono Lake's northeast shore to better assess lake-atmosphere dynamics. The study will continue to monitor lake and atmospheric conditions through 2022. Last spring, Matt and fellow SMU faculty brought an undergraduate geology class to Mono Lake during their spring break to learn about the geologic setting and volcanic history of the Mono Basin. We were pleased to host the class at the Mono Basin Field Station—the largest group to date!
Paoha Island volcanic history
A group from the US Geological Survey's California Volcano Observatory visited twice this year as part of a new initiative to better understand the volcanic eruptions in the Mono Basin, improve the age estimates of those eruptions, and assess the probability and possible hazard of a future eruption. Researchers mapped lava flows on Paoha Island, collected rock samples from as many islets as possible, and installed a GPS instrument on Paoha to measure any uplift or subsidence of the island. First impressions from the surveys are that there may be more, and younger, lava flows on Paoha than previously mapped, and that the north end of Paoha is subsiding a bit, though the reason is unclear.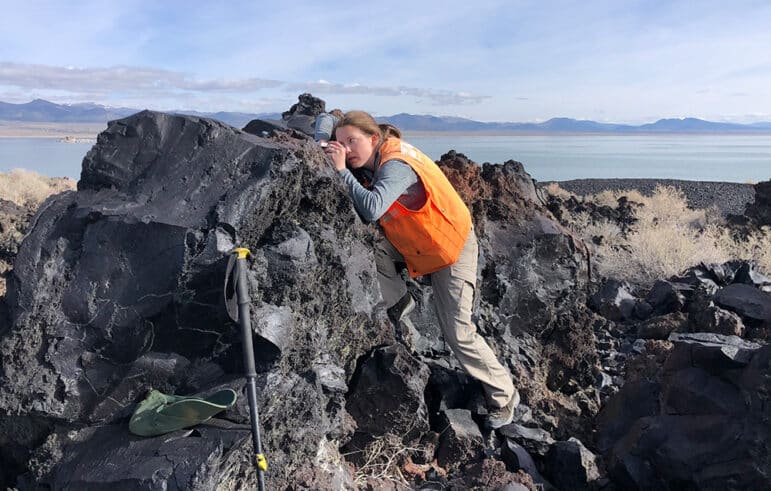 Water sampling for future space missions
In June four researchers from NASA's Jet Propulsion Laboratory (JPL) came to Mono Lake to test an instrument that is in development for future space missions. The Ocean Worlds Life Surveyor project, or OWLS, is preparing to look for microbial life on Enceladus, one of Saturn's moons, or Europa, a moon of Jupiter. Both Enceladus and Europa are covered by ice, but it's hoped that liquid water—probably salty—is beneath the ice and that it may host life. The JPL team collected Mono Lake water and then brought it to their mobile laboratory trailer at the Mono Basin Scenic Area Visitor Center, where the samples were filtered and run through a mass spectrometer to detect molecules like amino acids and peptides. The future mission to Enceladus or Europa would likely launch between 2030 and 2050.
Monitoring bird populations
In addition to the interest in Mono Basin geology, researchers worked on several new and continuing projects about birds at Mono Lake and in the Mono-Yosemite high country. The Tuolumne Meadows White-crowned Sparrow project continued for its 54th year, and this year a new graduate student extended the observation period into the early fall. California State Parks counted and banded 18 young Osprey fl edged on Mono Lake nests, a lower number than usual. State Parks staff also banded 25 Black-crowned Night Heron chicks that hatched on Twain Islet—the first year of that eff ort. This summer, Point Blue Conservation Science completed the 40th year of the Mono Lake California Gull study, and as of press time, Eared Grebe survey flights are underway.
Another important long-term project, monitoring the Greater Sage Grouse populations in the Eastern Sierra, returned for a seventh consecutive year of observing the Parker Meadows and Bodie Hills nesting and brooding seasons. The team reported 29 nests in the Bodie Hills study area and one in Parker Meadows, and a hatching success rate of nearly 70% in 2022. Other crews working in Long Valley and the White Mountains reported similar hatching success rates this year but noted that the Sage Grouse seemed to be nesting a few weeks earlier than in previous seasons.
Phalarope and shorebird surveys
Surveys of Wilson's and Red-necked phalaropes continued for the fourth consecutive year, regularly counting birds that visit Mono in July, August, and September before making their migration to Argentina. The team from Oikonos Ecosystem Knowledge observed the peak number of Wilson's Phalaropes in mid-July—12,000 individuals—and Red-necked Phalaropes peaked a bit later, in mid-August, with around 11,000 individuals. Next year the team hopes to be able to track phalaropes throughout their migration by attaching tiny radio transmitters to the birds' backs. Wildlife tracking systems to be installed at Mono and in Argentina will hopefully pick up their signals at either end of their hemispheric journey.
In conjunction with the phalarope survey in August, the Mono Lake Committee and Oikonos partnered with the Eastern Sierra Audubon Society and Point Blue Conservation Science to conduct a lake-wide survey of shorebirds at Mono Lake. A full survey hadn't been completed since 2008, and as the climate changes and lake levels fluctuate, understanding how shorebirds use and depend on this unique saline lake is more important than ever. On August 15, 23 participants divvied up all 37 miles of Mono Lake shoreline into walkable sections and set out with binoculars and spotting scopes to identify and count every shorebird. All together, the group counted more than 26,000 birds of 20 different species, from the tiny Least Sandpiper to the massive Long-billed Curlew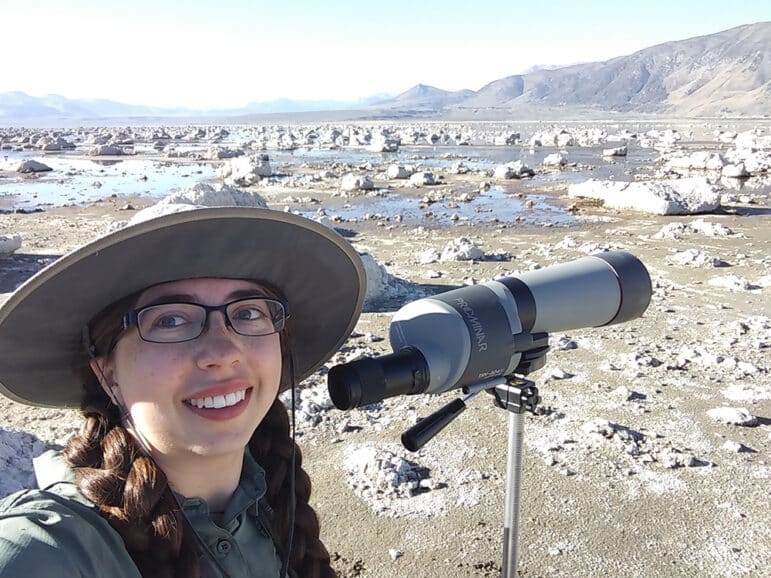 We hope that this exciting year of research is the leading edge of a much deeper understanding of Mono Lake and environments like it. It is safe to say that the Mono Basin Field Station is fulfilling the goal of enhancing the scientific knowledge of the Mono Basin, and far beyond.
This post was also published as an article in the Fall 2022 Mono Lake Newsletter. Top photo by Bartshe Miller: Researchers from NASA's Jet Propulsion Laboratory tested an instrument that is in development for future space missions to two distant planetary moons. They collected Mono Lake water and analyzed it at their mobile laboratory at the Mono Basin Scenic Area Visitor Center.