Are you looking for the perfect way to experience the strange beauty of Mono Lake this summer? Canoe tours of the South Tufa area begin the last weekend in June and run through early September!
Canoe tours are a great way to connect with the lake for anyone age 4 and up, whether it's your first visit to the area or your hundredth. Mono Lake's natural and human histories are rich and ongoing, and we want to help you connect to this unique place however feels right for you. Our canoe tours are meant to be a space for contemplation, curiosity, and education. Meet the wondrous lifeforms that inhabit the lake, marvel at the wild geology of the area, and learn firsthand why thousands of people have fallen in love with this hidden corner of the Earth.
This year's record snowpack in the Sierra Nevada is forecasted to result in a lake level rise of 2.8 to 4.7 feet over the coming months, which means the lake will be transforming before our very eyes! The Mono Basin is already alive with wildflowers and extraordinary wildlife, and the influx of snowmelt also bodes well for the lakeshore's limestone tufa groves. As lake waters rise, tufa formations that have been high and dry for years will be submerged and hopefully begin growing again. The best way to see these amazing living rocks is from a boat in the water—come get a front-row seat!
If you live in the Eastern Sierra, this will be an amazing year to visit regularly and see the changes throughout the season. Come get your first canoe ride of the season for free during locals' weekend, June 24–25! Send an email to me, the Canoe Coordinator, for the details.
Canoe tours occur every Saturday and Sunday at 8:00am, 9:30am, and 11:00am from June 24 through September 3. Tickets are $20 for children ages 4–12 and $35 for adults ages 13+. Private tours are available for large groups (typically 12–20 individuals) by special request—contact us as early as possible so we can fit it into the schedule. For more information, visit the canoe tours web page, send me an email, or give us a call at (760) 647-6595.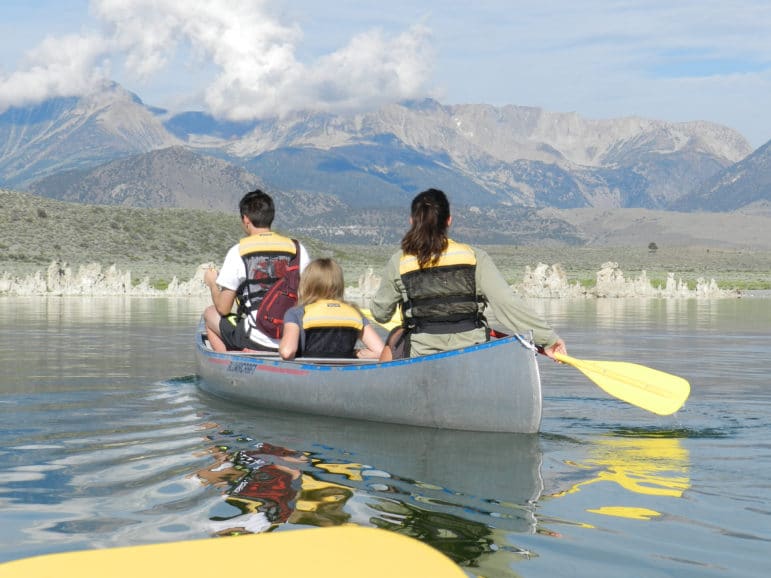 Top photo by Andrew Youssef.