This post was written by Erik Lyon, 2013 Project Specialist.
Last Saturday, restoration volunteers pulled 237 pounds of invasive white sweet clover from the banks of Mill Creek, Mono Lake's main northern tributary. With their contribution, the total for the summer came to a whopping 1,149 pounds removed from Mill Creek and Old Marina over just four Restoration Field Trips.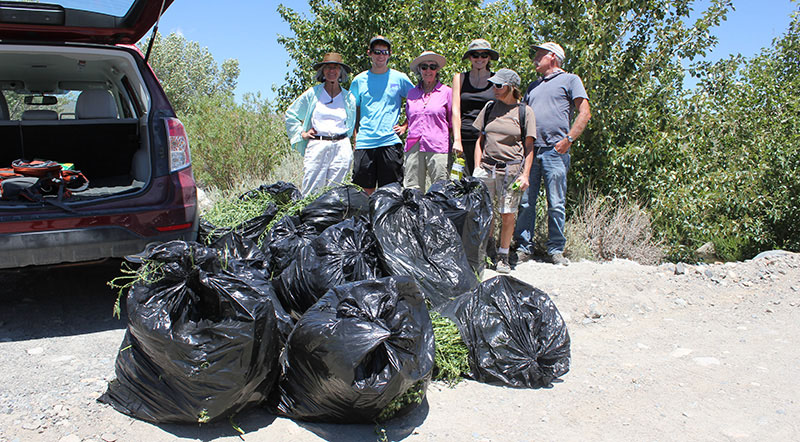 This achievement is truly a landmark occasion. Last year, restoration volunteers pulled a grand total of 777 pounds of invasives, and we set a goal of one thousand pounds for 2013. It's incredible that we have surpassed our goal just halfway through the season!
The Mono Lake Committee has many thanks to give to the all the people who have contributed to this milestone. First, we are grateful to Patagonia for the grant that is funding the entire Mill Creek project, including the free lunch provided to all our volunteers!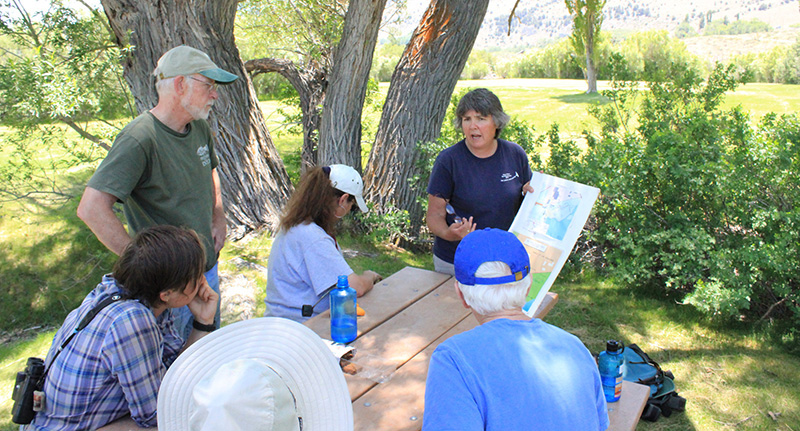 Of course, we recognize that all the money in the world just won't pull weeds. Our thanks go out to our many restoration volunteers, who have collectively donated over 120 hours of getting their feet wet and their hands dirty to heal the creek. The restoration season was started with a bang when Greens at Work, a San Francisco bay area-based restoration group, brought nearly a dozen volunteers and removed 437 pounds of sweet clover at Old Marina!
Since then, we've focused our energy on Mill Creek's sweet clover scourge, where it has nefariously been working its way upstream from Cemetery Road. Volunteers like 2012 restoration veteran Maddog, whose name speaks to her ferocity when it comes to pulling pesky weeds, have been invaluable in controlling the infestation.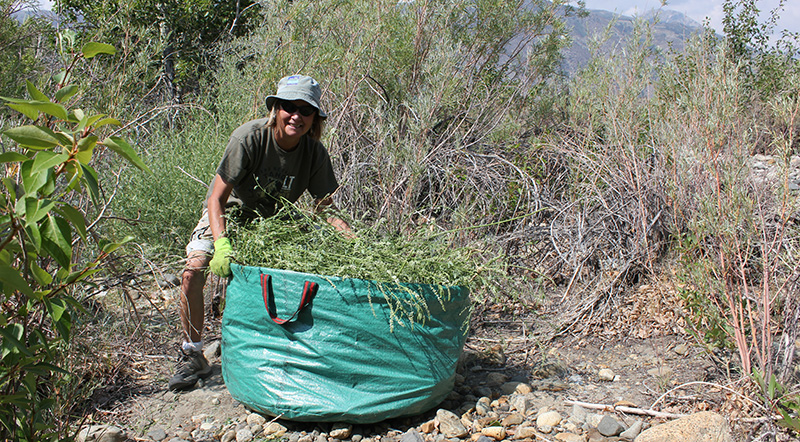 And remember, it's not too late to make a difference! The season is only halfway through, with Restoration Field Trip #5 coming up on Monday, August 5.Geologist Rich Foye will join to tell volunteers about Mono Lake's Black Point volcano over lunch. The Restoration Field Trip will meet at the Mono Lake Committee at 8:30am. Following Restoration Field Trips will be on Sunday, August 18; Saturday, August 31; and during the first week of September.