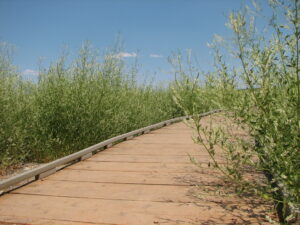 This post was written by Julia Runcie, 2011 Mono Lake Intern.
Every Wednesday at 10:00am, Mono Lake Committee interns meet a group of curious visitors on the back patio of the Forest Service Visitor Center. We give a brief presentation on the restoration work that is ongoing in the Mono Basin and introduce the group to some of the challenges we face in bringing our fragile stream and lakeside ecosystems back to a state of health.
After the talk, we invite our listeners to join us in a hands-on stewardship activity. Some weeks we water the Jeffrey pine seedlings the Committee has planted along Rush and Lee Vining creeks. Our volunteers carry buckets of water from the creeks and give each tiny tree a generous amount, helping along the natural processes that were interrupted by diversions for over forty years.
On other days we head down to Old Marina, where the David Gaines Boardwalk struggles to make its way through a dense thicket of invasive sweet clover. We are currently working to uproot all the weeds, and in the fall we hope to replace them by planting native shrubs and grasses. Today, our seven volunteers cleared a fifty-foot swath on either side of the boardwalk, and they're looking forward to returning next Wednesday—perhaps to finish the job!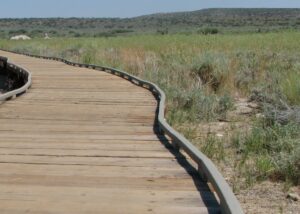 It's important to remove these weeds now, since they will go to seed within a couple of weeks. If we can clear the entire David Gaines Boardwalk in time to plant native seeds this fall, we may look forward to a healthy vegetative community at Old Marina within just a year or two. We're always happy to involve more volunteers in the exciting work of restoring the Mono Basin. If you're free on any Wednesday morning, come on down to the Visitor Center and lend a hand! For more information, please contact Julia at (760) 647-6595.