This post was written by Mila Re, 2011 Mono Lake Intern.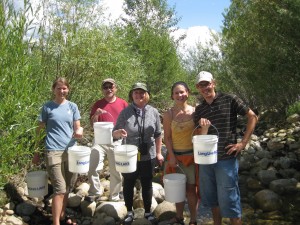 A group of volunteers armed with buckets braved the heat this past Wednesday to water young Jeffrey pine saplings along Lee Vining Creek. With only a 50% survival rate, these small trees need all the help they can get!
This event was part of ongoing stream restoration efforts that include the removal of invasive plants and the watering of native Jeffrey pines along the fragile streams that flow into Mono Lake. Last summer volunteer work parties succeeded in removing over 600 pounds of invasive plants and successfully eradicated non-native plants like woolly mullein from entire stretches of Mill Creek. This exciting progress has us looking forward to another full summer of restoration efforts!
If you are interested in helping out, join us every Wednesday this summer. Our next volunteer work party will start at 10:00am on Wednesday, July 13 at the Forest Service Visitor Center patio with a brief talk followed by an hour of watering or pulling in the field. Please bring water and we will provide some delicious snacks. See you  Wednesday!