Throughout July and August, HistoriCorps is partnering with the Inyo National Forest to replace the cedar shingles on the roof of the main house at DeChambeau Ranch. I was able to volunteer during a locals' day in late June and had a great time working with the crew! The group of six have come from all over the United States and will be working and staying at the ranch off-and-on until the project is complete. They are happy to call Mono Basin home for a bit until they mosey to their next project.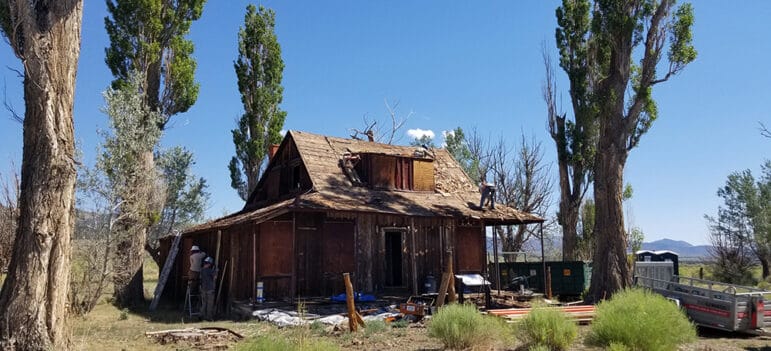 Though the main project of the day was removing the old shingles, I preferred to stay on the ground and help replace boards on the weather-beaten, west-facing side of the house. Fresh lumber was delivered, and we also used old lumber on site to make our repairs. Spending the afternoon using a skill saw and hammer was a nice break from the typical computer work that I am used to. It was also lovely to have American Kestrels, Western Kingbirds, Says Phoebes, and Red-tailed Hawks keeping us company throughout the day.
The crew on the roof moved quickly, working throughout the heat of the day and finally coming down when an afternoon thunderstorm rolled in. Threat of lightning and rain brought them down to the porch where we watched the storm pass through the Mono Basin and chatted about life.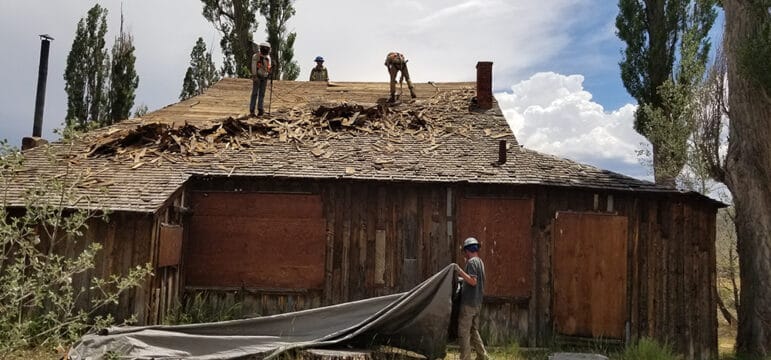 If you find yourself at DeChambeau Ranch soon, check out the progress on the main house. If the HistoriCorps folks are there, give them a thanks for all the work they are doing on the ranch. These repairs will help keep the beautiful old house in good shape for many years.
Top photo by Rose Nelson.