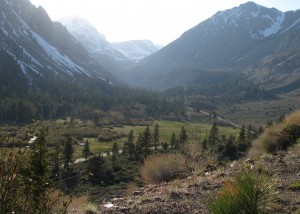 This post was written by Julia Runcie, 2011 Project Specialist.
As of this morning, Highways 108, 89, and 4 are all open, providing access to Mono Lake from the west side of the Sierra Nevada mountains. We have some more weather coming our way this week, which can close these roads at any time. Be sure to check the latest news from CalTrans before planning your trip.
Although Highway 120 west (Tioga Pass) remains closed and unlikely to open for several more weeks, the lower gate has been opened and it is now possible to drive 12 miles up to the Tioga Pass entrance station. The gate at Tioga Pass is closed. Please drive with extreme care as small rockfalls are still common along this road.