This post was written by Lisa Cutting, 2002-2020 Eastern Sierra Policy Director, 2000-2001 Environmental Resource Coordinator, and 1999 Mono Lake Intern.
Dick Dahlgren, a successful advocate for stopping the Los Angeles Department of Water and Power's (DWP) total diversion of Rush Creek, died on July 9 in Boise, Idaho near his home.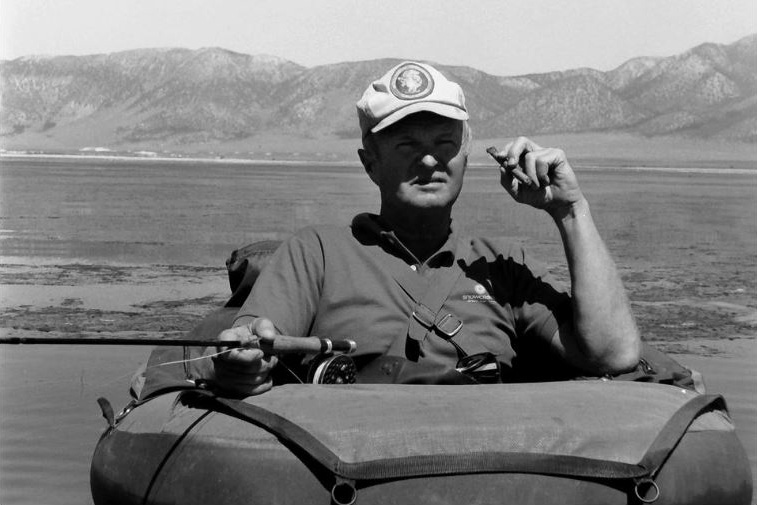 In 1984, Dick, an avid fly-fisherman, found a population of healthy brown trout in lower Rush Creek—a finding that was more surprising than it may initially seem. Historically a blue ribbon fishery, Rush Creek ran dry after the LA Aqueduct was built in 1941 and diverted the water to Los Angeles. Dick learned that DWP planned to "turn off" the creek and resume water exports to Los Angeles again later that fall, which meant certain doom for the trout.
Dick worked with Mammoth Flyrodders, California Trout, many Mono County leaders, and the Mono Lake Committee to stop the shut-off—which took an LA City Council hearing , Mono County Assistant District Attorney Stan Eller and Sheriff Marty Strelneck threatening to arrest DWP staff who touched the valve, a temporary restraining order, and ultimately a court case.
The case Dahlgren v. Los Angeles relied on Fish & Game Code section 5937, which says "The owner of any dam shall allow sufficient water at all times … to pass over, around or through the dam, to keep in good condition any fish that may be planted or exist below the dam." It was the second major legal challenge to DWP's water operations, and paved the way for further cases that secured water in Mono Lake's tributaries and enabled an era of stream restoration to begin.
As a member of Mammoth Flyrodders, Dick also secured longer fishing seasons in Crowley Lake Reservoir and the upper Owens River. He was a consistent advocate for anglers' access, a strong trout-stocking program, preserving adequate water flows for fish fry, and making sure the fishery resources were protected for future generations.
The health of Mono Lake's tributary streams and Mono County's robust fishing scene can in large part be attributed to Dick Dahlgren's efforts.