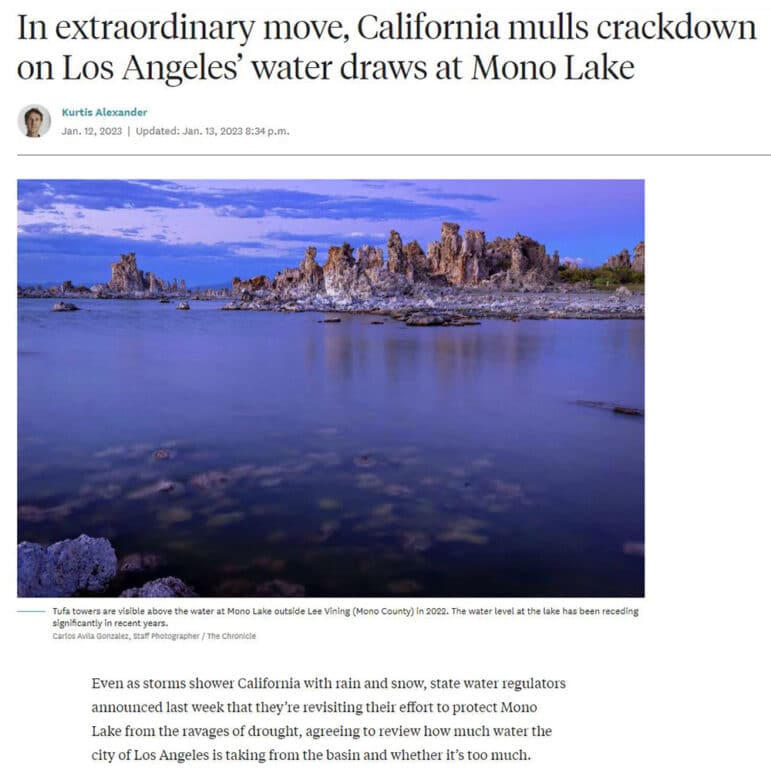 It's weather whiplash for California as people grapple with the staggering effects of atmospheric rivers on the heels of a severe multi-year drought.
One thing, however, remains the same: Mono Lake desperately needs to rise 13 vertical feet to the state mandated healthy lake level in order to protect California Gull nesting grounds, cover toxic dust-emitting lakebed, and provide a buffer against droughts for the lake's unique and highly productive ecosystem.
It's hard to imagine that with all this water, Mono Lake is not out of danger, but a January 12 article in the San Francisco Chronicle gets it right: "Even with a wet winter, the runoff that fills Mono Lake from the nearby mountains won't arrive until the snow melts in late spring or summer—after many of the birds that migrate to the basin have already begun to settle in and give birth."
In a December 16, 2022 letter, the Mono Lake Committee requested the State Water Resources Control Board suspend the export of water diverted from Rush and Lee Vining creeks and require that water to flow into Mono Lake until Mono Lake has risen to 6384 feet above sea level.
The Chronicle article notes the irony as well as the bigger issue at hand. "Even as storms shower California with rain and snow, state water regulators announced this week that they're revisiting their effort to protect Mono Lake from the ravages of drought, agreeing to review how much water the city of Los Angeles is taking from the basin and whether it's too much."
In response to the Committee's request the State Water Board has scheduled a workshop for February 15. While the hydrological context in which the workshop will take place has changed, the urgent need to raise Mono Lake to the state mandated level has not.
The article quotes Executive Director Geoff McQuilkin: "It's a pretty bad situation. And it's not like it's fresh-eyed environmentalists showing up to ignite a new issue. We're trying to sustain the longstanding plan that the state of California developed years ago."
Additionally, State Water Board action to preserve the gains the lake level will make in this wet winter will greatly benefit Mono Lake in both the short and long term—safeguarding the lake from a repeat of this untenable scenario.
So, as Mono Lake Committee staff continue shoveling snow, we're also evaluating the changing precipitation situation and preparing to install a temporary electric fence to protect the nesting California Gulls this spring.
Top photo by Elin Ljung: A sunrise view of Mill Creek and Mono Lake on January 2, 2023.