This post was written by Gabrielle Renteria, 2015 Bookstore Assistant, 2016 Mono Lake Intern, 2016–2018 Project Specialist.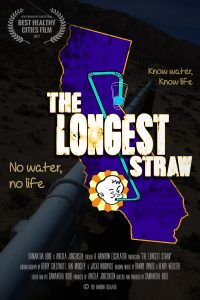 In 2015 we had the pleasure of meeting Samantha Bode. She had just finished hiking the length of the Los Angeles Aqueduct—338 miles from Los Angeles to Mono Lake—for a documentary she was making.
In Sam's documentary, The Longest Straw, she talks to community leaders, residents, and advocates in Los Angeles as well as the communities most affected by the exportation of water south. The film premiered at the New Urbanism Film Festival last October and we are excited to be hosting three showings here in the Mono Basin this summer.
Free screenings will be held on June 22, July 6, and July 20 at 7:00pm at the Mono Lake Committee Information Center & Bookstore. On July 20 a special Q&A session with Sam will follow the screening. Admission is free and all are welcome.
If you have questions about the film or the screenings contact Gabrielle at (760) 647-6595.