After an extraordinarily wet winter, this will certainly be an exciting year for wildflowers. We've already been delighted with the number of blooms in the Mono Basin and as the snow continues to melt at the higher elevations, there will be so many more to enjoy.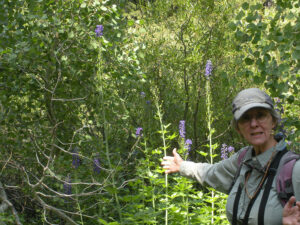 Come join renowned botanist Ann Howald for her field seminar High Country Plants & Habitats, which will have a special focus on the ways high-elevation plants and animals of the Mono Basin are affected by climate change, now and in the future. During this field seminar, Ann will take you to sub-alpine meadows and forests, shores of sub-alpine lakes, streams that cascade toward Mono Lake, and natural rock gardens.
You'll learn to recognize the common trees, shrubs, wildflowers and ferns that are characteristic of each habitat. You'll also see resident birds, insects and other wildlife, and discuss many of the ways that plants, insects, and animals rely on each other for food, seed distribution, nesting sites and other necessities.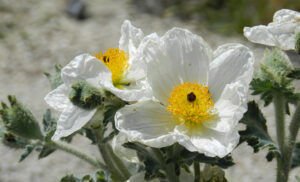 Throughout the weekend, the group will also explore plants' connections to their environment—how special adaptations permit them to survive the cold, wind, snow, and drought of high altitudes, how they reproduce, and the essential relationships between plants and their insect, bird, and mammal neighbors. And you'll talk about how these relationships could be changed, or even disrupted, by climate change.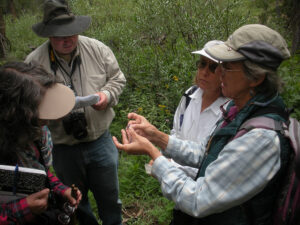 Instructor Ann Howald is a retired consulting botanist who specializes in rare plant and conservation issues. Her engaging way of demystifying complicated plant structures and naming conventions brings participants back for multiple seminars.
Though Ann's expertise is plant-related, she involves the entire ecosystem—birds, insects, weather patterns, and any other subjects that participants wish to learn about. The Eastern Sierra's varied habitats are fascinating, busy places, so come take a guided look at all that activity with the High Country Plants & Habitats field seminar.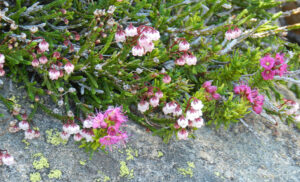 High Country Plants & Habitats • July 28–30 • $165 per person/$150 for members • sign up here • view itinerary here