This post was written by Adam Dalton, 2014 Mono Lake Intern.
"Yosemite Valley, to me, is always a sunrise, a glitter of green and golden wonder in a vast edifice of stone and space." —Ansel Adams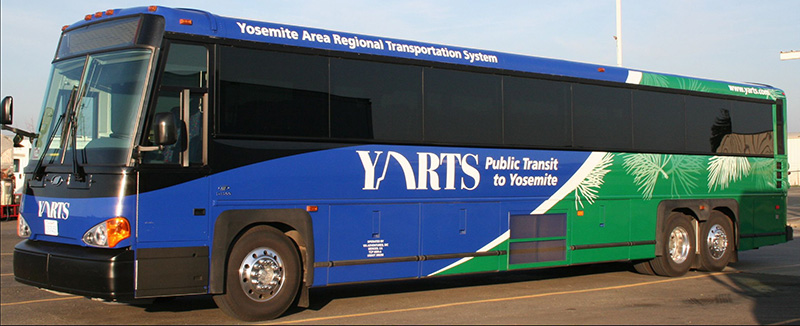 Does the following scene resonate with you? After hours of driving from a far-flung locale you excitedly motor up Tioga Pass with great anticipation of arriving at Yosemite National Park and enjoying the perfect vacation, but unfortunately, as you near the gate you see it: the looming wall of traffic!
As you attempt to take in the park's picturesque scenery you instead end up trying to navigate through the craziness of traffic and spend more time looking at the road and the steering wheel than the flora, fauna, and Yosemite's famous landscapes. If this frustrating scene sounds all-too-familiar, there exists an elegant and simple solution to your park navigation problems, the YARTS (Yosemite Area Regional Transportation System) Yosemite shuttles.
Founded in 2000 and based in Merced, California, YARTS is a year-round service which provides heated, air-conditioned, and well-equipped motor-coaches to transport visitors around Yosemite, therefore allowing passengers to take their mind off the driving and travel in comfort. Passengers are free to relax, chat with fellow visitors, and take in the amazing views the park has to offer. YARTS offers routes from Mammoth to Yosemite Valley (with three convenient stops in Lee Vining), from Sonora to Yosemite Valley, and from Merced to Yosemite Valley.
Not only is YARTS an easy way to travel, it is also very cost effective and environmentally conscious. YARTS passengers do not have to pay the entrance fee into the park ($20), save money otherwise spent on gas, and drastically cut down the number of cars on Yosemite's roads, helping to reduce the roads' traffic burden. Additionally YARTS offers many discounts and services, including….
— 3/2 offer: You get 3 days for the price of 2!
— Advanced ticket purchase online or … pay on the bus! YARTS accepts cash or Visa, MasterCard, Discover, or debit
— One child (age 12 and under) rides free with every paying adult
— You do not pay park entrance fees if you are riding the YARTS into Yosemite
Lots of people prefer YARTS to the hassle of driving themselves through the park—check out some of the positive experiences. So why bring the stress of driving through Yosemite upon yourself when there is an easy, sensible, and economical solution available? Next time you are planning on taking a trip to Yosemite why not take the YARTS bus?
Below you will find a pricing table for the Mammoth to Yosemite Valley YARTS route and the scheduled stop times in Lee Vining. To see all route schedules, special offers, and rates, visit the YARTS website.
| | |
| --- | --- |
| Departures schedule | Arrivals schedule |
| Mono Basin Visitor Center: 7:17am, 9:27am, 12:32pm | Mono Basin Visitor Center: 8:52am, 4:47pm, 7:22pm |
| Lake View Lodge: 7:20am, 9:30am, 12:35pm | Lake View Lodge: 8:57am, 4:52pm, 7:27pm |
| Tioga Mobil Gas Mart: 7:30am, 9:40am, 12:45pm | Tioga Mobil Gas Mart: 9:00am, 4:55pm, 7:30pm |
| | | |
| --- | --- | --- |
| Location | Round-trip fares | One-way fares |
| Mammoth | $12 (10*) | $6 (5*) |
| June Lakes | $6 (4) | $3 (2) |
| Tuolomne | $6 (4) | $3 (2) |
| White Wolf | $12 (10) | $6 (5) |
| Crane Flat | $18 (15) | $9 (7) |
| Yosemite Valley | $26 (22) | $13 (10) |
*Numbers in parentheses indicate prices for ages 62+, children under age 12, and the disabled