This post was written by Morgan, 2009 Canoe Coordinator.
As a returning Intern, and this year's Canoe Coordinator for the Mono Lake Committee, I look forward to doing something new every day to help protect and restore this incredible place.  This past Monday was a typical example of the unexpected diversity of tasks I can expect to do every day I come to work.
The sunny morning began at eight o'clock with the first canoe tour of the season for a very enthusiastic troop of eleven-year-old girl scouts from Rancho Cucamonga, California.  Education Director Bartshe, Intern Rosa and I supplied the canoes, paddles, and our knowledge of Mono Lake, and in return the weather cheerfully cooperated with a pure blue sky fringed with puffy white clouds hovering like the gulls over the hills that surround the lake. And oh the lake!  Mono Lake was at its finest, the clear glassy surface reflecting our bright red, green, and silver canoes floating amid castle-like formations of tufa towers and darting violet-green swallows.  Once the girl scouts had a chance to perfect their brine shrimping technique and ask questions about how they can help conserve water, we paddled back to shore and loaded the refurbished canoe trailer for the short drive back through the sagebrush to Committee headquarters in Lee Vining.
Back in the office, I was surprised but excited to spend the unseasonably gray and rainy afternoon collecting and compiling the amazing flood of support to protect California State Parks, especially the Mono Lake Tufa State Reserve and Bodie State Park, that have continued to pour into our office.   For the past week alone, I tallied four hundred and forty new petition signatures from the paper petitions we have stationed here in Lee Vining, and more than two hundred and twenty seven additional letters of support from our dedicated members keeping in touch via the internet action alert.  Under direction from Geoff McQuilkin our Executive Director, and with much copier-wrangling help from my fellow Intern Melanie, we made seven identical packets of all the petition sheets and personalized letters ready for hand delivery to the decision-makers in Sacramento.  The final foot-high stack of most recent pleas, protestations, and urgent requests to spare State Parks from devastating budget cuts and closure weighed in at twenty-one pounds of 100% recycled paper.  We shipped this special delivery to our staffer in Sacramento to make sure it reached the Governor, our elected officials in the legislature, and the budget committee in time for the next round of negotiations.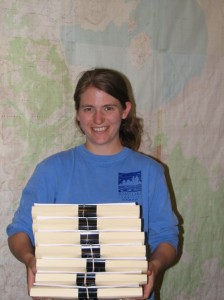 It was inspirational to leaf through the towering stack of letters and to  read the personal stories of people who love State Parks and hope to see them protected even in today's challenging economic climate.  Thank you all so much for your continued support and if you know anyone who cares about Mono Lake or Bodie or all the other precious  State Parks of California and has yet to send a letter, there is still time for them to speak their mind!  So please spread the word and know that here at the Mono Lake Committee we are dedicated to making sure that your voice is heard.
I can't wait to see what I'll be doing to help protect Mono Lake tomorrow.