#GivingTuesdayNow is a new global day of giving and unity that will take place on May 5, 2020. Lately we've been announcing a lot of cancellations, from the Mono Basin Bird Chautauqua to the summer canoe program; however, giving back is not cancelled, and Mono Lake needs you now more than ever.
We're still doing all we can to keep restoration and protection programs moving forward, and DWP on track with their obligations. Staff are even launching new web-based opportunities for you to experience Mono Lake, sharing the arriving birds, springtime flowers, and scenic views on naturalist walks near the lake.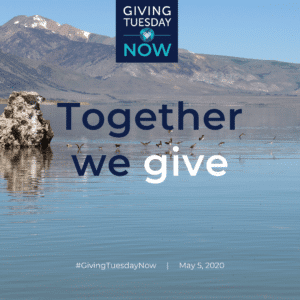 You can still support protection, restoration, education, and science at Mono Lake with your gift of any amount. Thank you!