As an unassuming email landed in our inboxes from clothing company Patagonia about the company's next step to "save our home planet," phones buzzed with the news alert, office-mates shared the link, and the outlook for planet Earth made a rare, but palpable, shift in a positive direction.
In a letter to Patagonia grantees, of which the Mono Lake Committee is honored to be one, Patagonia Founder Yvon Chouinard wrote, "Earth is now our only shareholder." Patagonia now has a new, and innovative, ownership structure that helps the company better "fight the environmental crisis, protect nature and biodiversity, and support thriving communities."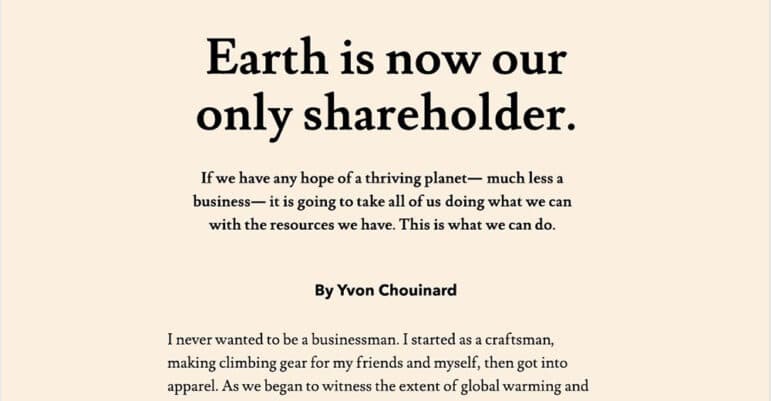 See details of Patagonia's bold move here.
The Mono Lake Committee is proud of our long and ongoing partnership with Patagonia. The Committee has, over the years, been the beneficiary of not only grant funds but hands-on participation in saving Mono Lake from many of Patagonia's staff. In the 1980s Patagonia's designers developed the Mono Lake Committee logo. In the 1990s Patagonia supported a Mono Lake Intern position for a summer. In the 2000s Patagonia Reno team members helped pull invasive plants to aid stream restoration. Many of our staff have been inspired by Patagonia's "Tools for Activists" program, the Action Works program, and have worked with their activism campaign staff to improve our core mission to protect and restore Mono Lake. We think of Patagonia as close colleagues.
Through the years we have always held Patagonia in the highest regard–as they ask the hard questions and stay true to their reason for being. We are more proud than ever to be a part of the movement Patagonia is creating.
See the New York Times article here.
Top photo: Employees from Patagonia's Reno warehouse paddle on Mono Lake, by Arya Harp.