This post was written by Emma Oschrin, 2014 Project Specialist.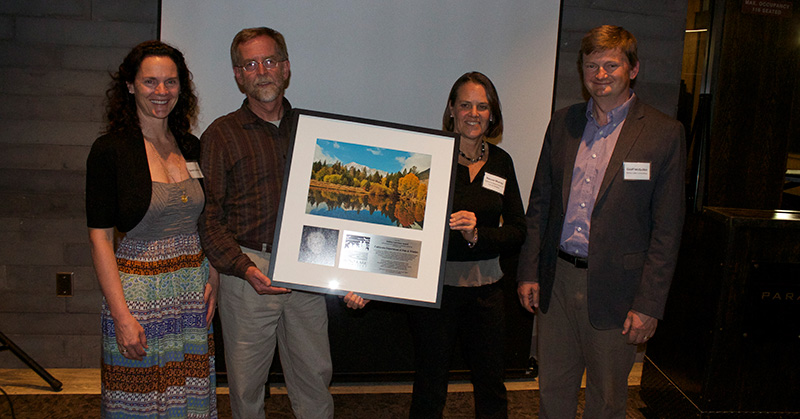 As the Mono Lake Committee says goodbye to winter and truly begins to gear up for the summer season, the Andrea Lawrence Award Dinner serves as a marker for the turning of a new leaf. Before the dinner, our staff focuses on fundraisers such as the Wild & Scenic Film Festival–Los Angeles, and creates a beautiful Mono Lake calendar for the following year. After the dinner, the office is buzzing with news of the soon-to-be-arriving seasonal staff and plans for the Bird Chautauqua. The Andrea Lawrence Award Dinner is a bookend to winter and spring and when the event is finished, we get into full-on summer mode.
The dinner, held at Parallax Restaurant on Mammoth Mountain, honors Andrea Mead Lawrence and is a fundraiser for the Andrea Lawrence Fund, which promotes and celebrates passionate engagement in community and the land with an emphasis on encouraging collaboration and inspiring youth to become environmental leaders.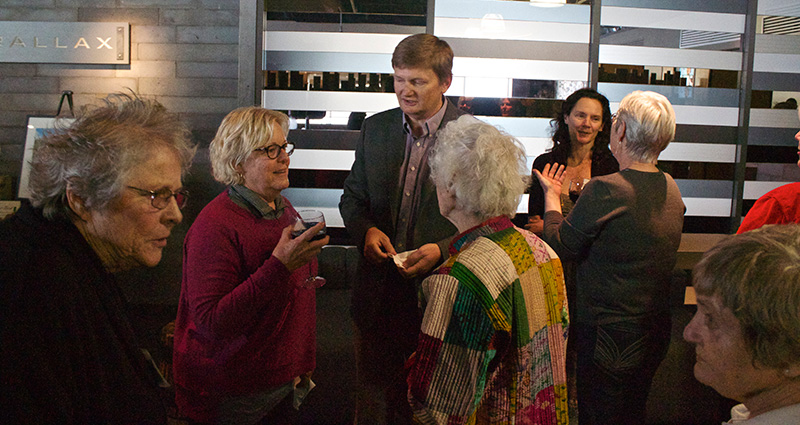 After guests braved their way up the mountain in a blustery gondola ride, they mingled while enjoying appetizers and wine.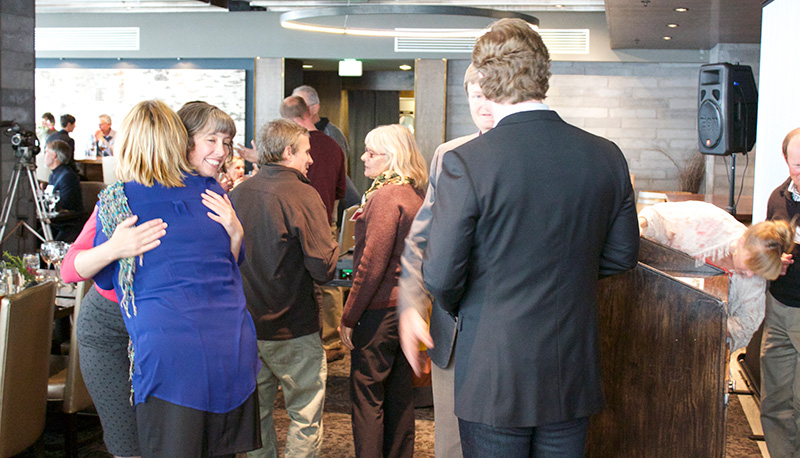 Dinner began with opening remarks from Andrea's daughter Quentin Lawrence.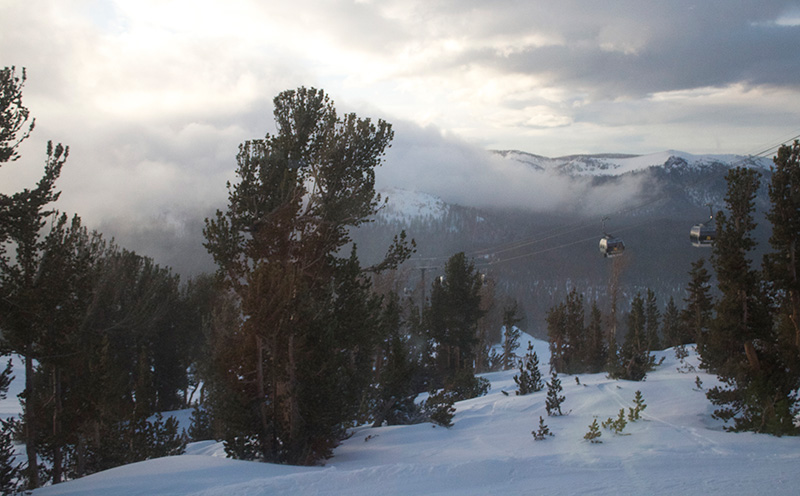 Since this dinner fell on a winter Olympic year, we showed footage of Andrea's gold medal runs in the 1952 Olympics. In order to commemorate Andrea both as an environmental champion and as an Olympian, we also showed interview footage of Andrea in which she discussed the significance of the Eastern Sierra and the importance of having a meaningful life after no longer being a professional athlete. The room was full of memories and heartfelt stories about Andrea.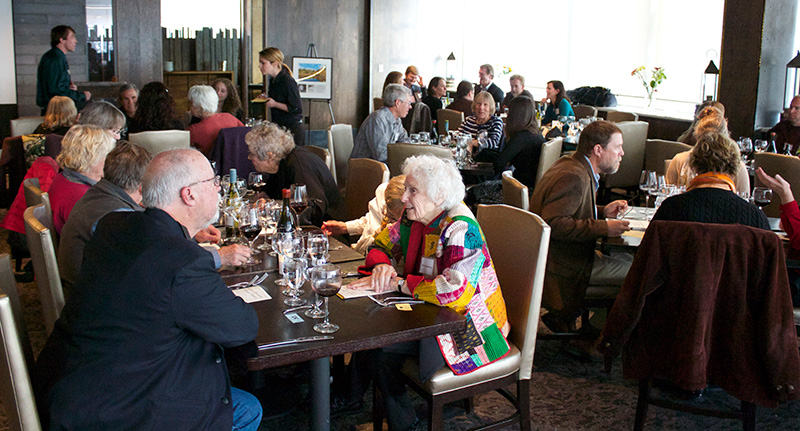 As the dinner was coming to a close, Geoff McQuilkin, the Mono Lake Committee's Executive Director and emcee for the evening, presented the Andrea Lawrence Award to the California Department of Fish &Wildlife (DFW). The award was given to the DFW for its dedicated work to achieve the 2013 Mono Basin Stream Restoration Agreement. Department of Fish &Wildlife staff Steve Parmenter and Nancee Murray were in attendance to accept the award.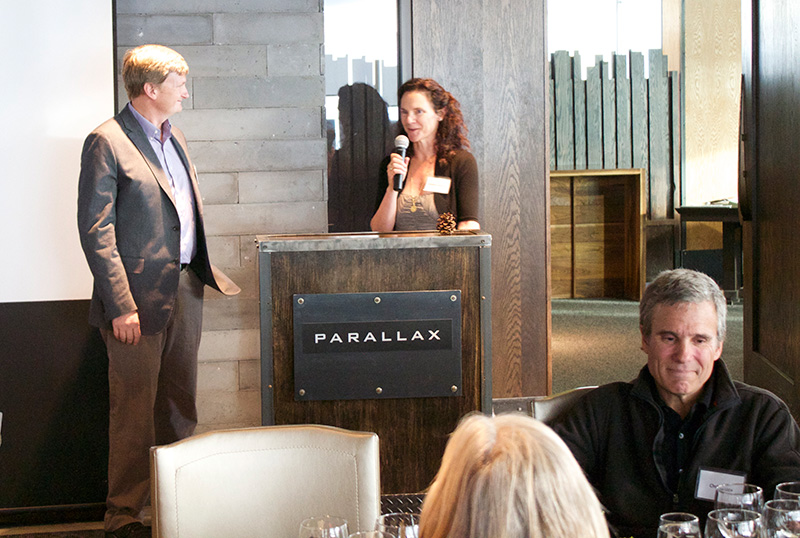 Although the view of Mt. Andrea Lawrence was unfortunately shrouded by the clouds, guests lingered after dessert to catch up and reminisce about Andrea.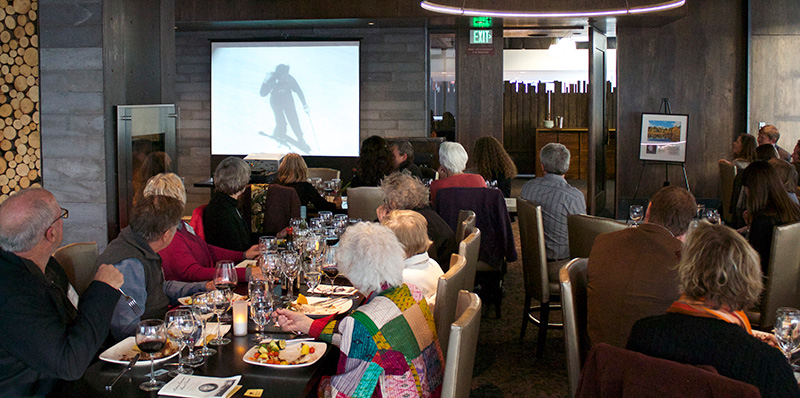 This event would not be possible without the continued support of the Mammoth Mountain Ski Area, which generously hosts the dinner and donates the food and beverages. Additionally, we owe thanks to the Lawrence family as well as the dinner guests. We wouldn't have a dinner to put on without all of you!
We would love to have you join us for the next Andrea Lawrence Award Dinner—keep an eye here for more information!