April 1st is an important day in the Mono Basin—it marks the start of the runoff year.* As Greg explained in his post a few weeks ago, "A runoff year runs from April 1 to March 31, and enables tracking of stream runoff from the time of peak snowpack from one year to the next."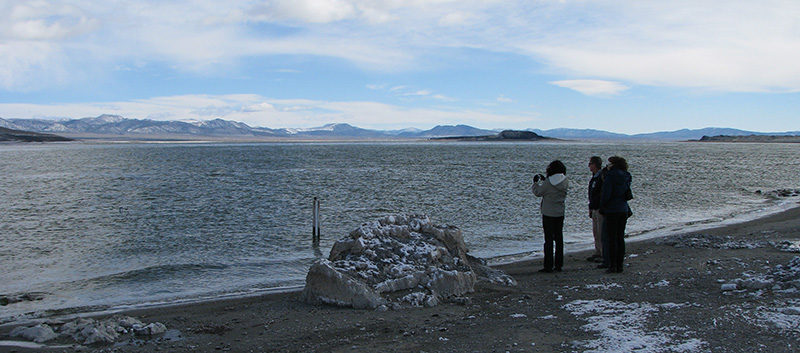 April 1st is particularly important because Mono Lake's level, as measured on that day, dictates how much water the Los Angeles Department of Water & Power (DWP) can export for the runoff year. The California State Water Resources Control Board's Decision 1631 set the rules for DWP's export amounts in a way that protects Mono Lake from drought conditions such as those we're experiencing in the West right now.
Stormy, windy weather made it impossible to read the lake level gauge accurately on April 1st, but DWP employees read it on March 31st and Committee employees read it on April 2nd, combining the data for a lake level of 6380.7 feet above sea level. Together, the Committee and DWP agreed on this crucial lake level data and confirmed that under D1631's rules, it means that DWP can export 16,000 acre-feet this runoff year.
The official language from D1631 provision 6(a)(3) states that, "If the water level of Mono Lake is at or above 6,380 feet and below 6,391 feet, then Licensee may divert up to 16,000 acre-feet of water per year under the terms of this license."
If Mono Lake had been below 6380 feet on April 1st, DWP would only be allowed to export 4,500 acre-feet in the runoff year. Since the current drought conditions mean that Mono Lake may drop as much as 1.5 feet this year, it's likely that DWP's exports will be reduced to 4,500 acre-feet next year because Mono Lake is likely to be below 6380 feet on April 1, 2015.
*Not to be confused with the water year, or the rainfall year, or the calendar year, or the fiscal year. We work with lots of years here at the Mono Lake Committee.