This post was written by Alison Kaplan, 2018 & 2019 Canoe Coordinator.
As the new Canoe Coordinator, I arrived in mid-May to begin preparing for a summer packed with canoe tours on Mono Lake. My early season responsibilities included familiarizing myself with the area, reading all about the canoe program and how it functions, learning how to back up the canoe trailer, and taking inventory of all of the equipment before the first weekend of tours in late June.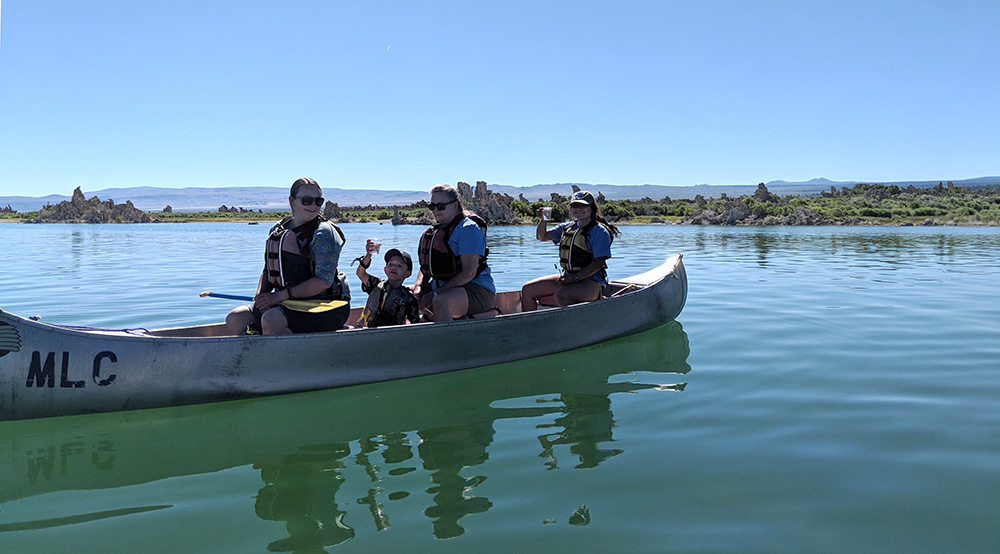 To my surprise, the task that took up the most time out of all of these was the equipment inventory. I had read in the canoe program manual that some of the equipment had to be replaced every year due to damage, but I didn't really understand the extent of that damage until I saw heavy-duty ropes and straps falling to pieces in front of my eyes.
Mono Lake canoe tours aren't wildly adventurous or extreme; we paddle close to shore at a relaxed pace, observing the birds and wildlife while discussing the lake's natural and political history. How, then, does the canoe equipment take such a beating each season? The answer lies in Mono Lake's unique chemistry.
Anyone who has felt the water at Mono Lake knows that it feels unlike any other natural body of water. Many have compared the slippery feeling of the briny water to soap, and this comparison is apt considering the lake's pH is 9.8, about the same as a bottle of Windex. Mark Twain commented on the water's utility as a laundry detergent: "Its sluggish waters are so strong with alkali that if you only dip the most hopelessly soiled garment into them once or twice, and wring it out, it will be found as clean as if it had been through the ablest of washerwomen's hands," he wrote in his travel narrative Roughing It, published in 1872.
Unfortunately for our canoe equipment, the lake water's strength as a cleaning agent is matched by its corrosive nature. A pH of 9.8 might remove grease from clothing, but it is also harsh enough to deteriorate many materials after repeated soakings. The water's extreme effects on textiles can also be attributed to the lake's salinity—Mono Lake is more than twice as salty as the ocean—as well as the cocktail of other trace chemicals and minerals in the water, including strontium, magnesium, calcium, fluoride, arsenic, lithium, iodine, tungsten, carbon-14, uranium, thorium, and even plutonium!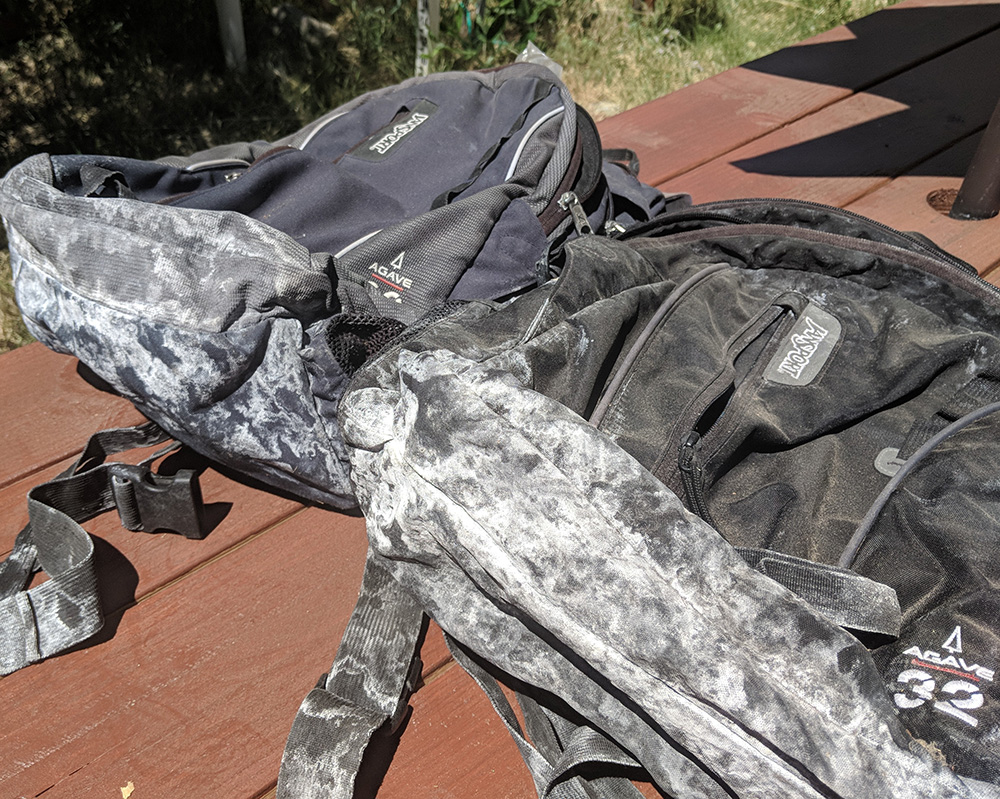 Our sturdy metal canoes are built to withstand season after season of tours on Mono Lake, but much of our soft gear, like the ropes and straps that we use to tie the canoes up or strap them to the trailer, don't fare quite so well. Even though we diligently rinse all of our equipment with fresh water after each day of tours, the lake's unique water paired with the strong Eastern Sierra sunshine breaks down the nylon in our ropes and PFDs, dissolves the glue in our sandals, and leaves metal parts squeaking.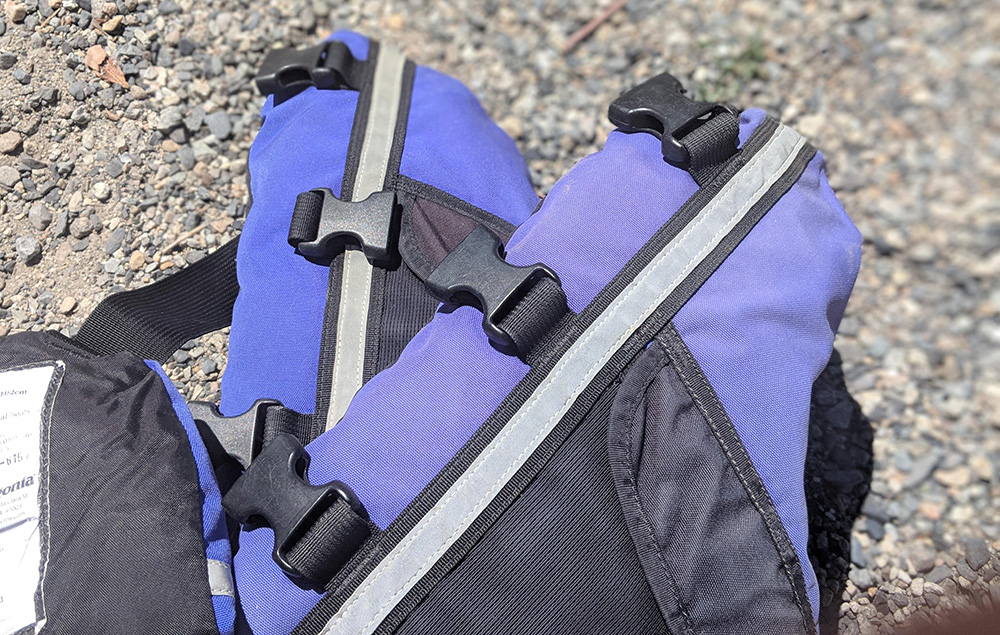 Luckily it takes a lot of exposure to Mono Lake's water to cause this kind of corrosion. Our canoe equipment spends upwards of eight hours each week for the entire summer soaking in the briny lake water, but this same water that corrodes our equipment can provide an amazing swimming experience since the high salinity allows you to float effortlessly. I would encourage all visitors to try soaking in Mono Lake, just make sure you rinse your clothes off afterwards.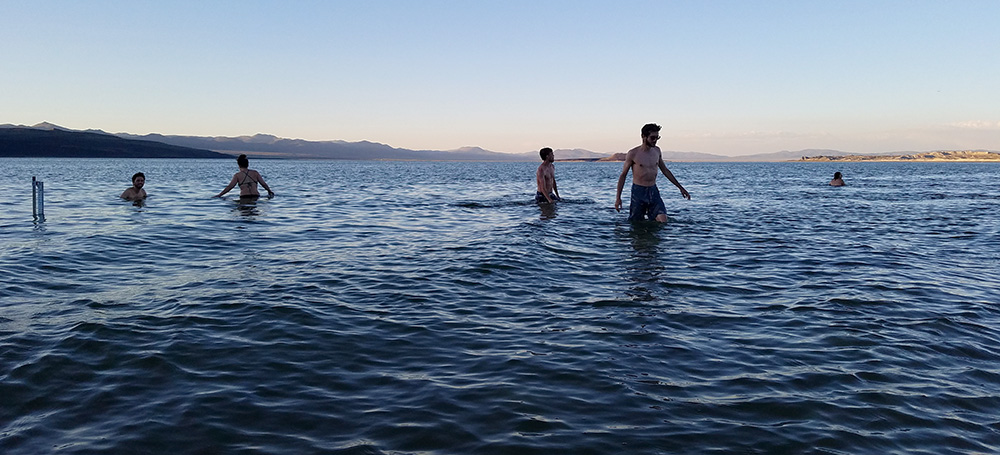 Book a canoe tour today to experience Mono Lake's unique waters for yourself! Join our experienced guides for a paddle among tufa towers, get an up-close look at the critters that call Mono Lake home, and enjoy a calm that only comes with time spent on Mono's salty water. No canoe experience is necessary. Tours start at 8:00am, 9:30am, & 11:00am every Saturday and Sunday and cost $35 per person ($20 for kids 12 and under). For more information and to reserve your seat click here.