This post was written by Sandra Noll, Birding Intern in 2014, 2015, & 2016.
Another month has flown by and it's time to unveil July's top ten bird encounters; birds seen within a half-hour radius of the Mono Lake Committee headquarters. July's birding continued to be enriched by the maturation and fledging of chicks and by initial sightings of migratory grebes and phalaropes along the shore of Mono Lake.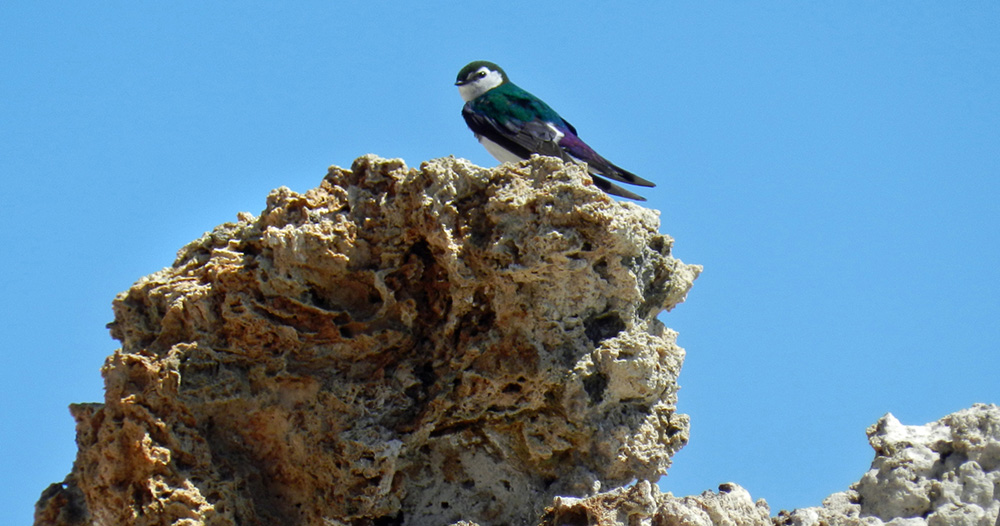 1.  California Gull fledglings—According to Kristie Nelson, Mono Lake California Gull Project Leader, this has been a "highly successful year for the gulls, better than we have seen in over ten years for both population size and chick production."
2.  Gray-crowned Rosy-Finch—often seen in the high country
3.  Red-breasted Sapsucker—multiple nesting pair
4.  Violet-green Swallow—the only birds that nest in tufa; a perennial favorite!
5.  Northern Harrier
6.  Spotted Sandpiper—several of these enchanting, tail-pumping birds were found nesting along freshwater streams and in the deltas of Rush and Lee Vining creeks as well as occasional sightings from the County Park boardwalk
7.  Eared Grebe—arriving in large numbers
8.  Wilson's Phalarope—seen in small scattered flocks on the eastern shore from South Tufa to County Park; large flocks observed only in the northeastern lakeshore area
9.  Western Wood-peewee—a subtly colored flycatcher heard more often than seen; here in abundance
10.  Black-billed Magpie—a noisy flock frequented the sagebrush scrub northwest of County Park for most of the month
Update: Last month's Peregrine Falcons were seen several more times off the boardwalk at County Park (once with a fledgling!) in successful hunts. Most of Mono Lake's Osprey pair have now fledged their chicks.