This post was written by Angie Glaser, 2012 Project Specialist.
The Mono Lake Committee has just taken another huge step in our efforts to reduce our ecological footprint.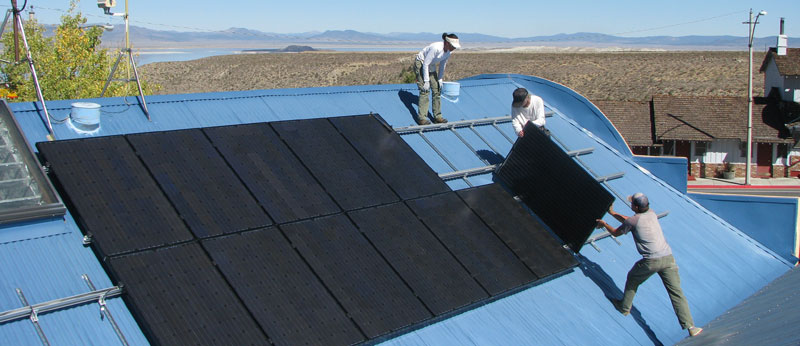 The south-facing roof of our bookstore building is now completely covered with 33 photovoltaic solar panels, bringing our total solar panel count up to 42. Local business Sierra Solar installed panels on our "ice house" office building in 2010 and came back to complete the solar energy transformation. Committee buildings are now completely maxed out on solar panel surface area and are well on their way to becoming as green as possible.
The energy impact
Our new solar panels are on the higher end of the energy output spectrum for photovoltaic panels at about 255 watts. According to Executive Director Geoff McQuilkin, more powerful panels were chosen in an effort to maximize the energy output since there's no roof space at the Information Center & Bookstore to add more panels in the future.
The projected energy output for the 33 new panels combined is 12,000 kilowatt-hours per year—enough energy to cover a bit more than half of the electricity use for our bookstore and office building. In conjunction with the existing solar panels, solar energy will now be able to cut our grid electricity consumption by more than 50%! Stay tuned as the year progresses and we see just how much energy the solar panels are able to produce.
Why solar makes sense for the Mono Lake Committee
To get the most out of solar panels you need one obvious and important ingredient—consistent, year-round sun. Fortunately, Lee Vining has an abundance of clear, sunny days throughout the year, providing the perfect habitat for healthy solar panels. The Committee bookstore building has a south-facing, metal roof that helps take advantage of the abundant sun by speeding up snowmelt—the roof is rarely covered in snow for more than a day or two.
Along with our sunny, high-altitude location, the amount of energy the Committee uses makes solar a sensible energy option. The energy required to keep an office, a bookstore, and a theater and gallery functioning seven days a week is pretty substantial. We are still looking into ways we can further decrease our energy consumption, but maxing out on our solar energy potential is an important step.
Come check it out
Stop by our Information Center & Bookstore to take a look at the new project. If the solar panels aren't immediately visible, however, don't be alarmed! A short detour to the back of building provides views of both the new project and the first installation on the ice house office building.
A huge thank you goes out to Jim, TJ, Isabel, and Sierra Solar for doing such a wonderful job. Check out their website for more information about Sierra Solar and the great work they have done in the Eastern Sierra.