Last November the 20-year-old carpet in the Mono Lake Committee ice house office building was replaced with low-VOC, durable carpet squares, thanks to the generosity and practical sense of Board Chair Sally Gaines. You can read more about it on page 26 in the 2016 Winter & Spring Mono Lake Newsletter.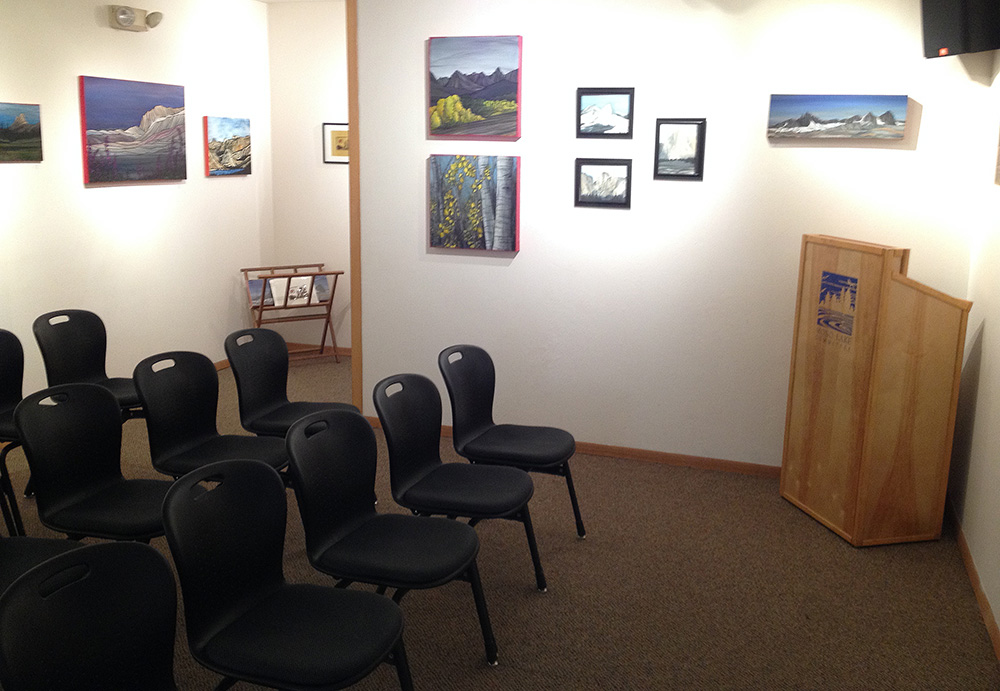 The carpet in the office and gallery in our main building was also 20 years old, but not quite as worn, so at first we had no plans to replace it. But, as often happens, the contrast between the new and the old made us realize that it was time to do so. Fortunately, thanks to a generous bequest from the Ward Family, we had the funds to pay to re-carpet the rooms with the same type of low-VOC carpet squares that we used in the ice house. We chose the carpet pattern, scheduled the installation for two consecutive days, and devised a plan. Everything from the offices would be temporarily stored in the gallery on Day 1, so the installers would have a clear space in which to work. Then everything would be moved out of the gallery into the newly-carpeted offices before the installers arrived on Day 2 to finish the project.
Staff packed up 20 years' worth of file folders, books, reports, maps, and other documentation, and disconnected computers, monitors, and printers. Next we dissembled our desks (plywood attached to the walls and balanced on file cabinets). Bookcases, chairs, file cabinets, plywood sheets, and all the boxes and computer equipment were moved into the gallery.
Then, the day before the carpet was to be installed, we learned that the installers would be here for only one day. Time to modify the plan! As soon as the new carpet was in place in the first office, we moved in everything that we'd taken out. After the scramble of reassembling the office, putting the gallery back together seemed easy—paint, hang a new gallery show, and bring the chairs back in.