Tioga Pass, the road that offers seasonal travel between the east and west sides of the Sierra Nevada through Yosemite National Park, just opened this morning! After a record-breaking snowy winter it's the latest opening in at least the last 90 years, but thankfully still in plenty of time for the 42nd annual Tioga Pass Run.
Scheduled for Sunday, September 10, 2023, this popular annual event offers intrepid athletes a chance to run or walk 12.4 miles and 3,200 feet up from the Mono Lake Committee Information Center & Bookstore in Lee Vining to the east entrance of Yosemite National Park in a footrace that famously only features one hill. (Though it's best not to think too hard about that after the road briefly levels out at Ellery Lake!)
Registration is open and spots are filling up for a chance to partake in this legendary race, which is a popular challenge for locals and visiting athletes alike. Runners and walkers enjoy unforgettable views throughout Lee Vining Canyon, aid stations run by enthusiastic volunteers, and a post-race celebration and raffle at the finish line at Tioga Pass. Prizes are awarded to the first men's and women's division finishers, but all athletes who finish the race leave with a one-of-a-kind sense of accomplishment.
Whether racing, volunteering, or spectating, the Tioga Pass Run is a great way to spend an early fall Sunday morning in the Eastern Sierra and support the Mono Lake Committee, the race's foundational sponsor that works to preserve the character of the Mono Basin and the Tioga Pass corridor.
The race is two months away, so there's still plenty of time to train! Ready to take the challenge? Make sure to register before August 1 to ensure you get a race T-shirt!
More information about the Tioga Pass Run can be found here. If you're interested in volunteering, please contact me, Race Director Leslie Redman, by email.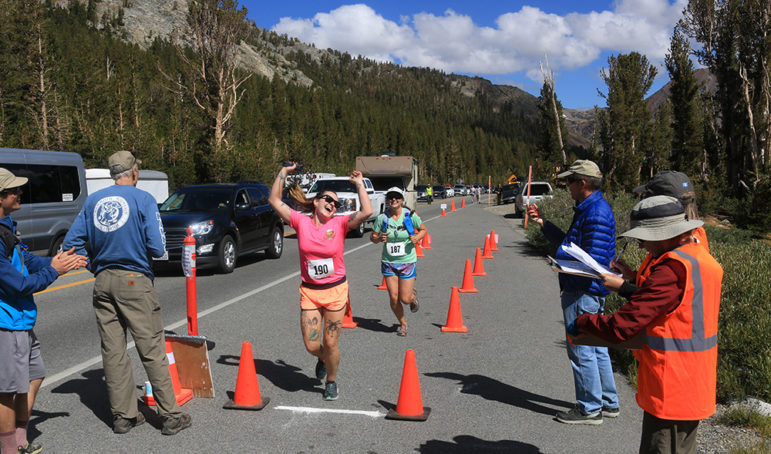 Top photo by Andrew Youssef.