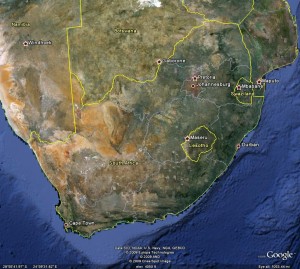 According to my flight itinerary it took me 31 hours, 10 minutes and 11,311 miles to get from San Francisco to Durban, South Africa, leaving me with just about enough energy left to cringe at the thought of the carbon footprint of the trip.
My travel companion is Roger de Freitas of the Global Nature Fund Advisory Board, who I met at the Living Lakes Conference in China. Together we've got a pile of questions, thoughts, and ideas that we'll be investigating during our visit with the Wildlands Conservation Trust. Roger is a self-proclaimed "ologist"—and is living up to the title with at least 20 pounds of books on subjects ranging from flora to geology—so we'll also be doing some good natural history investigation on the trip as well. I'm carrying the bird books.
Roger lives in London, and arranged for us to visit the Picasso exhibit at the National Gallery during my six-hour layover there. It's such a treat for us Lee Vining residents to visit museums, and I've loved Picasso's work since I lived briefly in Paris in college and visited the Musee National Picasso there with my dad … not to mention that getting a chance to walk around in the middle of all of that flying, was just really good to do. The exhibit focused on Picasso's use of art of the past as a source of energy and innovation—is this the theme for the trip?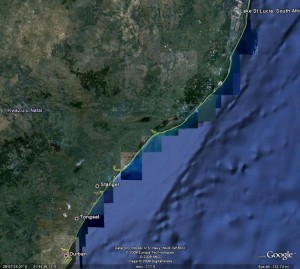 When we arrived in Durban it was rainy and grey, and as we drove up to the Wildlands' office in Hilton I was feeling a little bit confused about just where we had landed. It was lush, misty, and cold—did I end up somewhere other than Africa? But then, as we left the city behind I saw my first 'Africa tree': the beautiful and iconic hunched silhouette of an acacia. "We're in Africa!" quickly became an ongoing joke.
We met our wonderful hosts and friends Andrew Venter, CEO of Wildlands, and Charmaine Veldman and Simone Dale, two program managers. A few cups of South Africa's own rooibos tea later we were knee deep in a conversation about an innovative Wildlands project that builds land protection and healthy communities through the development of a protected game reserve that relies on, and in turn benefits, the bordering communities. We talked about how important it is to involve people in landscape protection efforts, and how important trust, listening, and understanding are to the mutual process of education—two aspects that are core to the Mono Lake Committee's Outdoor Experiences program as well. In spite of the jet lag and two nights "sleep" in airplanes, I was invigorated by our conversation—it's exactly this sort of innovative and inclusive program that have made me want to visit this particular nongovernmental organization.
After a wonderful home-cooked meal with the whole crew and Andrew's family I crashed out in great anticipation of the itinerary ahead.