Last week, while looking around the office, I uncovered a binder hidden among the office supplies entitled "The Birds and the Bees, the Weather and the Trees of the Mono Basin." Assuming it would be a collection of handouts on the natural history of the area, I was delighted to find that in fact it was a collection of handwritten naturalist notes from Mono Lake Committee staff members over the years.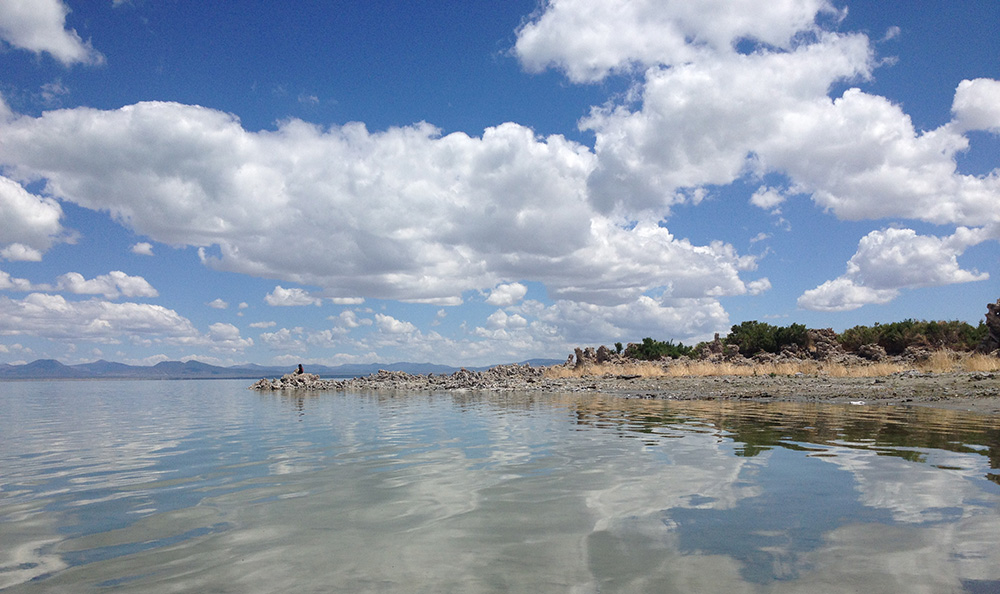 The notebook contains observations as early as 1994 (by some of our staff members who are still here, more than 20 years later) with a focus on birds, flowers, and other sightings in the region. I've spent quite a bit of time drooling over all the rare birds and other creatures documented in the binder, but for this post I decided to narrow my focus to this week in history.
21 July 1996 | 19 years ago
In this brief entry, J.C. writes that sky pilot (Polemonium eximium) is in bloom on Mount Dana. These hearty plants seem to grow right from the rocky, talus slopes, high in the alpine zone. Above 11,000 feet, you don't expect to see such a large, beautiful cluster of flowers, but sky pilots are truly magnificent. This week, I was thrilled to see the same flower in bloom on Koip Peak Pass—their brilliant, purple petals beckoned me onward, up the seemingly endless switchbacks.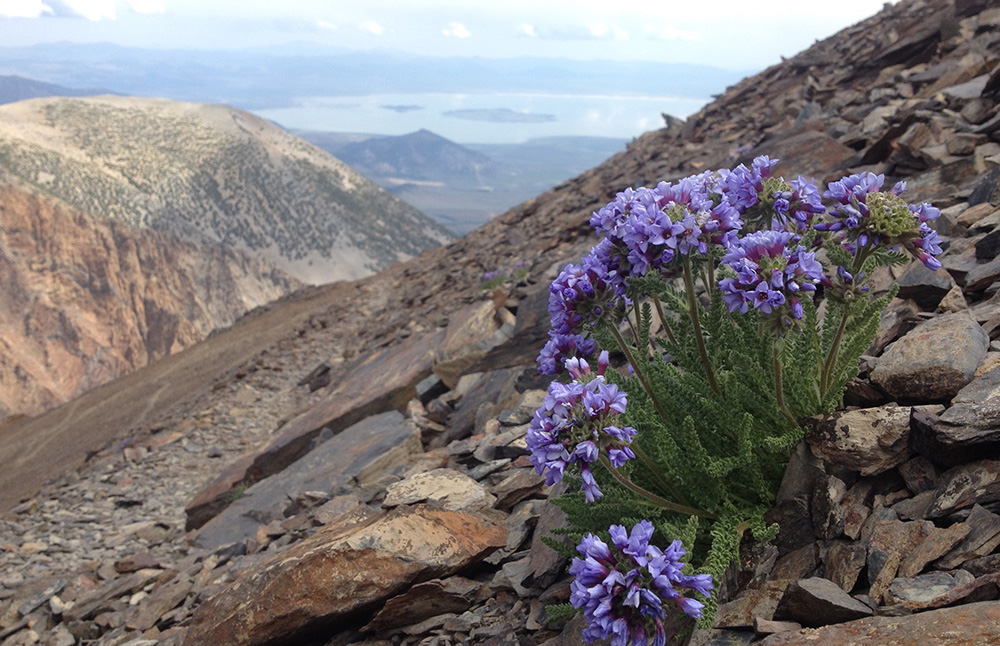 23 July 1997 | 18 years ago
Who hasn't marveled at a group of acrobatic birds and wished to fly among them? This naturalist recounts an exciting bird sighting and contemplates just that. "Took a run between the raindrops on Lee Vining Creek Trail and found myself all a-flurry in the midst of 5 Common Nighthawks. Oooh, the dusky wingbars…. If only we mere mortal peeps could dip and sway on the thermals—life would be so much more exciting."
24 July 1999 | 16 years ago
On a windy day at Navy Beach, Bartshe documents seeing 18 Long-billed Curlews, 5 Black-bellied Plovers, 5 Willets, and a Black-necked Stilt nesting with chicks. He also remarks, "Fall migration has begun!" As difficult as it is to believe, migration seems to be beginning now too. Thousands of Wilson's Phalaropes have been spotted recently in Mono Lake as they begin to prepare for their non-stop, migratory journeys to South America.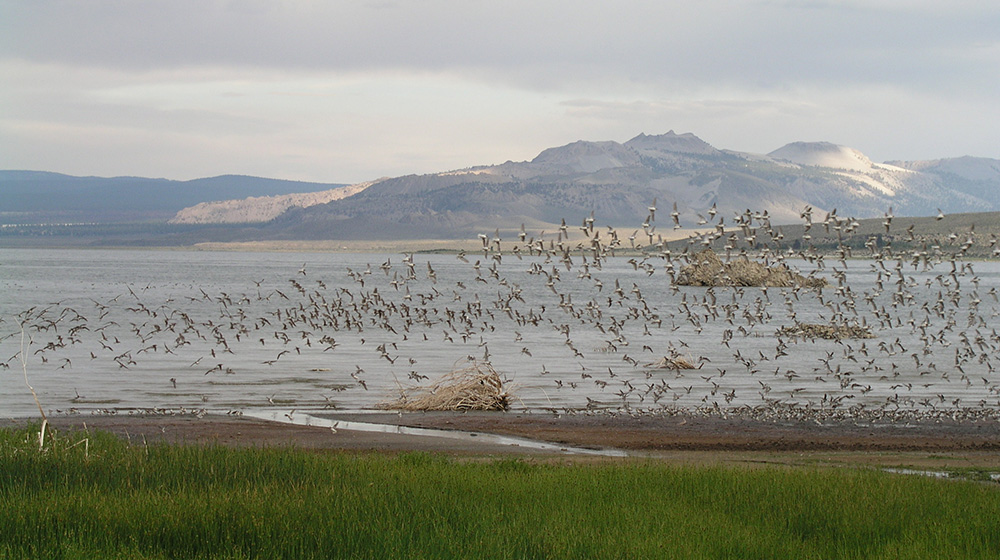 23 July 2015 | present
This week, I had my own exciting encounter with a new bird. Sitting in my nest, or hammock, rather, perched above Lee Vining Creek, I saw a flash of movement in my periphery. Since I have become interested in birds, my attention immediately darts to such motion. This time, when I looked, I saw a small dark bird bobbing up and down on a boulder in the creek. As I watched, it came closer and closer to me, choosing ever more perfect stones for me to observe it, completely oblivious to my presence. As I sat there I took in this beautiful creature as it bobbed its head down into the cold, rushing water for a last snack before nightfall. I knew it must be an American Dipper. What a sight it was! It was so exciting to see a stunningly beautiful bird in an area that was completely dry not long ago. Luckily, the dipper lives on, spreading joy to all who seek the beauty and wonder of the wild.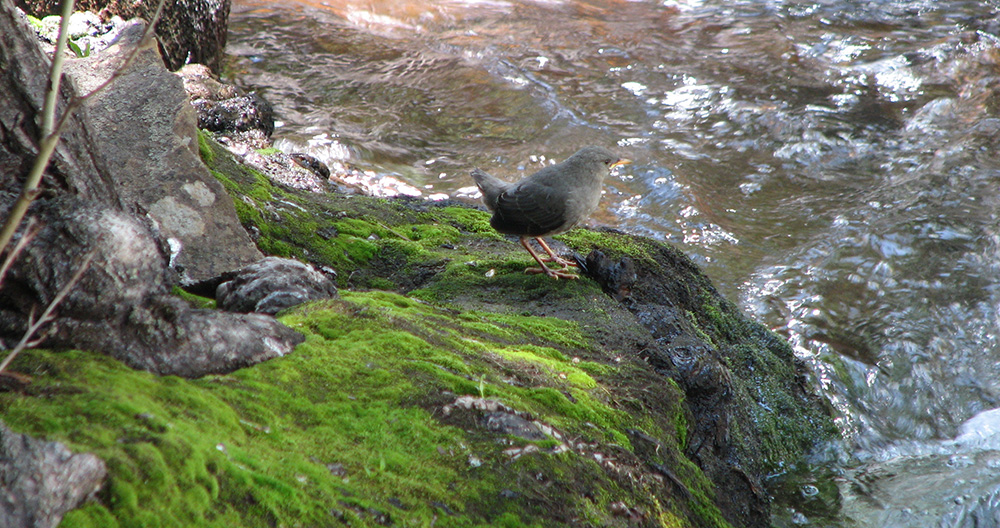 The next time you are out in the wild, I encourage you to follow the words of poet Mary Oliver: "Instructions for living a life. Pay attention. Be astonished. Tell about it." Do you have any exciting sightings you would like to share from your time in the Mono Basin? Feel free to share in the comments below. You can also add to our online collection of bird and wildlife sightings.