This post was written by Jessica Schneider, 2015-2020 Office Director, 2011-2013 Information Center & Bookstore Manager, and 2010 Information Center & Bookstore Assistant.
Several communities in the Eastern Sierra have been suddenly and tragically affected by wind-driven wildfires that started last Friday, February 6.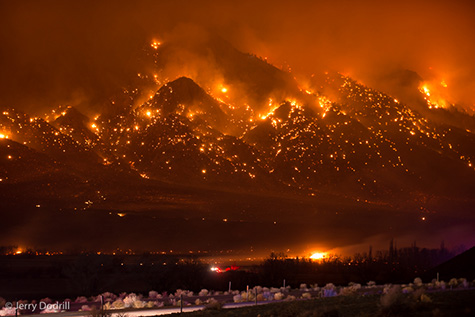 South of Lee Vining, the Round Fire destroyed 40 residences and damaged five more in the Paradise and Swall Meadows area near Highway 395 north of Bishop. Fire crews and other rescue personnel rushed to evacuate residents and contain the fire, but because of high winds and the extremely dry, unprecedented February conditions, containment of the fire was difficult in the first hours. As of today the fire has burned 7,000 acres and is 85% contained. No lives were lost, but four firefighters were injured. To find up-to-date information on the fire, visit the Cal Fire website. Photos and video of the fire can be found on photographer Jerry Dodrill's blog.
In Bridgeport, the Van Dyke Fire burned 450 acres and is mostly contained thanks to the quick response of local fire departments, the Humboldt-Tioyabe National Forest, and the precipitation that followed the wind storm. No structures were damaged, but power was temporarily lost, and cell service remains down for Verizon users from Bridgeport to south of Crowley Lake.
We are grateful for the quick response and hard work of our local volunteer firefighters, forest service firefighters, police officers, and the other departments that make up the hundreds of personnel that risk their lives to protect our communities. While no Mono Lake Committee staff live in the areas affected, our hearts go out to our members and friends who have lost homes, livestock, and personal possessions in this disaster—we are thinking of you. A relief fund has been created to help victims of the fire where people can contribute.